And free to boot
Most of the time, when The Legal Genealogist writes about copyright, it's to say there's a reason why some things — images, documents, whatever — can't be used freely in our genealogy.
Usually there's someone out there with some protected legal interest in the item and we at least need to ask permission before we just scarf it up and use it.
Not today.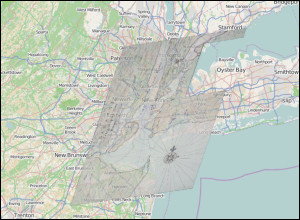 Today I want to make sure you know about a terrific resources from the New York Public Library — a fabulous collection of maps, absolutely free of any known copyright restrictions.
The Library is so determined to make these maps free to use that it has gone so far as to ensure that any of its own rights have been dedicated to public use through a under a Creative Commons CC0 1.0 Universal Public Domain Dedication.
It doesn't get much better than that.
Except that, through technology, it really does get even better than that.
Let's start with the maps themselves. According to the Library's blog:
The Lionel Pincus & Princess Firyal Map Division is very proud to announce the release of more than 20,000 cartographic works as high resolution downloads. We believe these maps have no known US copyright restrictions. (The maps may be subject to rights of privacy, rights of publicity and other restrictions. It is your responsibility to make sure that you respect these rights.) To the extent that some jurisdictions grant NYPL an additional copyright in the digital reproductions of these maps, NYPL is distributing these images under a Creative Commons CC0 1.0 Universal Public Domain Dedication. The maps can be viewed through the New York Public Library's Digital Collections page, and downloaded (!), through the Map Warper. First, create an account, then click a map title and go.1
And, the announcement continues:
What's this all mean?
It means you can have the maps, all of them if you want, for free, in high resolution. We've scanned them to enable their use in the broadest possible ways by the largest number of people.
Though not required, if you'd like to credit the New York Public Library, please use the following text "From The Lionel Pincus & Princess Firyal Map Division, The New York Public Library." Doing so helps us track what happens when we release collections like this to the public for free under really relaxed and open terms. We believe our collections inspire all kinds of creativity, innovation and discovery, things the NYPL holds very dear.2
Read that again.
Twenty. Thousand. Maps.
Free to use.
And these are not just New York maps. There are maps of just about every place in the United States and around the world included in the collection:
• A 1575 map of Cambridge, England
• A 1792 map of what would become Washington, D.C.
And of course a ton of maps of New York and the surrounding area. According to NYPL:
(W)e've built up a great collection of: 1,100 maps of the Mid-Atlantic United States and cities from the 16th to 19th centuries, mostly drawn from the Lawrence H. Slaughter Collection; a detailed collection of more than 700 topographic maps of the Austro-Hungarian empire created between 1877 and 1914; a collection of 2,800 maps from state, county and city atlases (mostly New York and New Jersey); a huge collection of more than 10,300 maps from property, zoning, topographic, but mostly fire insurance atlases of New York City dating from 1852 to 1922; and an incredibly diverse collection of more than 1,000 maps of New York City, its boroughs and neighborhoods, dating from 1660 to 1922, which detail transportation, vice, real estate development, urban renewal, industrial development and pollution, political geography among many, many other things.3
You can view and search the images available through the Digital Collections maps division entry page. But to download the maps for free, you have to use the Map Warper.
You do have to register to use that Map Warper site. That requires nothing more than an email address and a password. Every map in the collection has a number of options for use, but clicking on the Export link gives you an option to download the original high resolution TIFF file. These are very high resolution indeed — one Virginia map I downloaded was more than 73Mb in 300 dpi resolution: good enough to print in wall-chart size.
The map site can get really slow at times so patience is important, but there's a reason why it gets slow… and that's the rest of the story here.
Because what the Map Warper also lets you do — and me do — and everyone else in the public do — is "virtually stretch old maps onto a digital model of the world à la Google Maps or OpenStreetMap, thus creating a new copy that is not only aligned with spatial coordinates on the Earth, but normalized across the entire archive of old maps."4
It's not the easiest thing to figure out how to use, but there's a lot of help available — there's a "How to use this tool" video right on the Map Warper opening page.
And all those newly virtualized maps — with history superimposed on the modern world — are also available for download too. The map illustrating this post, for example, is a 1619 map of Manhattan superimposed on a modern map.
Maps. And a mapping tool. And every bit of it free to use.
Now how cool is that?
---
SOURCES