Comments due tomorrow, 19 May 2021
The Legal Genealogist has asked, twice, nicely.
First, on Monday, 3 May, in "Call for comments," this blog laid out the invitation the genealogical community has to comment on a request by a federal agency as to records that affect so many of us in our research.1
Then last Friday, 14 May, "Speak out by Wednesday" reminded folks of the deadline.2
Now I'm begging: as the daughter and granddaughter of 20th century immigrants, I implore you to speak out on behalf of greater, easier, less expensive access to the vast treasure trove of records held by the U.S. Immigration and Naturalization Service (USCIS).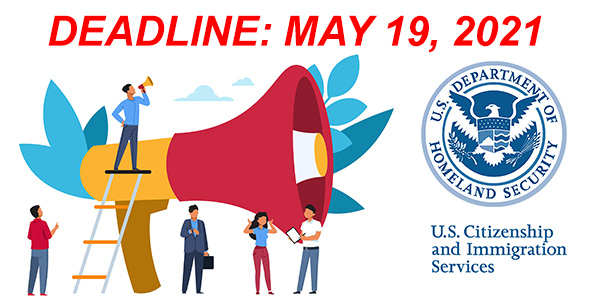 The USCIS-held records cover such a wide array of materials of enormous value for research: Naturalization Certificate Files (C-Files), September 27, 1906 to March 31, 1956; Alien Registration Forms (Form AR-2), August 1940 to March 1944; Visa Files, July 1, 1924 to March 31, 1944; Registry Files, March 1929 to March 31, 1944; and A-Files, April 1, 1944 to May 1, 1951. There's a ton of information about each of these record types on the USCIS Genealogy Program website.3
And — like all Americans — we've been invited to comment on ways USCIS could change the way it does things "with the goal of reducing burdens on the public, saving costs for both the public and USCIS, increasing navigability, saving time, reducing confusion and frustration, promoting simplification, improving efficiency, and/or removing barriers that unnecessarily impede access to immigration benefits."4 (And yes, I know the entry page says comments are already overdue, but the updated page made the correction: we really do have until tomorrow, Wednesday, 19 May 2021.)
The reality is that we're a very small piece of the stakeholder pie for USCIS. Folks currently in the immigration and naturalization system are going to be speaking out in droves about that current system. So to be heard at all we need to speak out in numbers.
Take a moment. Please.
Learn more about the issues and get the story on the specific questions being asked by the agency on the website of Records, Not Revenue, a "non-partisan project coordinated by an ad hoc group of genealogists, historians, and records access advocates."5 Read through its guide to issues with the Genealogy Program and its suggestions for comment starters, and think about how these issues impact our research, and review the call for comments from USCIS to tailor what we say in response.
Think about what we can say that might help improve access to the records USCIS holds and specific ways that its Genealogy Program could improve. A key point we should emphasize is that records need to be regularly and routinely transferred to the National Archives. Another point is that indexes to the records need to be made public.
And respond by tomorrow, 19 May 2021, using the specific Regulations.gov comment portal set up for this call for comments. The request for comments makes it clear it won't take emails, phone calls, letters or anything else. We need to use this specific system. All comments need to be in by tomorrow, May 19 — no exceptions.
If you haven't done it yet, please don't delay.
This daughter and granddaughter of immigrants would sure appreciate your voice being raised in this one last chance to speak out with USCIS.
---
Cite/link to this post: Judy G. Russell, "One last chance with USCIS," The Legal Genealogist (https://www.legalgenealogist.com/blog : posted 18 May 2021).
SOURCES