The lawyer who wasn't
There should have been another lawyer in The Legal Genealogist's family.
Oh there are, and have been, others over the years.
But there should have been one more.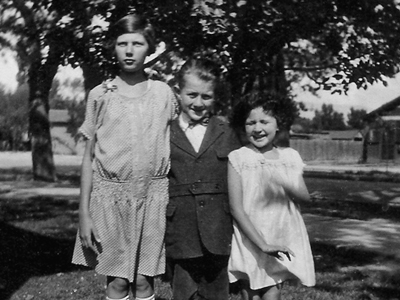 The ability was there.
The desire was there.
Even the opportunity was there: the attorney for whom this family member worked was willing to give this youngster a full ride to get the education needed, whether college or law school, even in the depths of the Great Depression.
But the time period of the Great Depression was a very different time period from today.
And there was one thing this young member of my family lacked in that time and in that place: a father who would understand and support those academic dreams.
Not because the father didn't understand or value education.
But because he didn't understand its value for this youngster — his oldest child.
His daughter.
Florence Ravia Gottlieb was the oldest of three children born to Morris and Maude (Cottrell) Gottlieb. Born 23 April 1914 in Cooper, the county seat of Delta County, Texas,1 Ravia can be found first in the records of the 1920 census, living with her parents and siblings in McKinley County, New Mexico.2 She appears next in the 1930 census, living with her family in Bernalillo County, New Mexico.3
In 1930, she graduated from Albuquerque High School4 and worked as a legal secretary for an Albuquerque attorney named John Sims.5 Sims was so impressed by the natural ability of this young woman that he offered her the opportunity to get the education she would have needed to become a lawyer and join him in the practice.6
Ravia's father Morris was born in Rheinhessen, Germany, in 1883,7 and emigrated to the United States in 1904.8 He came to America at the request of a cousin, another jeweler, who wanted him to work with him in his store in Pine Bluff, Arkansas. Morris soon went his own way and met and married Maude Cottrell, my grandfather's sister, in Fort Worth, Texas, in September 1912.9
Ravia was the first-born child, shown on the left in the image you see above, followed by a son — her brother, Frederick Merledon Gottlieb, in the middle — in 1917,10 and another daughter — her sister, Bobette, on the right — in 1918.11 Morris suffered from tuberculosis and that ailment took the family to New Mexico by 1920. A healthier life, mostly as the owner and operator of trading posts on or near Indian reservations, gave Morris a long life: he lived until 1961, when he died in Albuquerque.12
Morris certainly valued education for his children. But he didn't see any particular benefit to a higher education for a girl. Not ever, but particularly not then, not during the Great Depression. A steady paycheck and a steady beau were valued much more highly.
So Morris said no to the offer to his daughter. And Ravia dutifully accepted her father's decision.
She went on to have a good life. In 1937, she married Samuel Ivan Moore in Albuquerque,13 and they raised three children: Richard, Jerrold and Barbara. Ravia too lived a long life: she died at home in Albuquerque, 20 years ago yesterday, on 11 September 1995.14
But to her dying day she had one key regret.
There should have been another lawyer in The Legal Genealogist's family.
And, if The Legal Genealogist has so much as a whisper to say about it, no dream of any child in our family will ever again be crushed for no other reason than that the dreamer is a girl.
---
SOURCES