Probate Monday
Next in the series of webinars to be offered by the Board for Certification of Genealogists is Monday's webinar — "'Of Sound Mind and Body': Using Probate Records in Your Research" — presented by Michael Hait CG.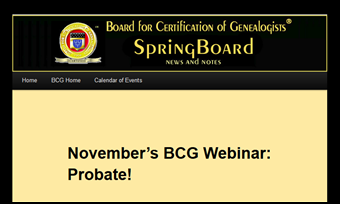 Created as part of the BCG Skillbuilding Track at the 2014 National Genealogical Society conference, Michael's lecture discusses the process associated with the administration of testate and intestate estates and the records created as a result.
He explains that: "Consulting these records is ordinarily an essential part of the reasonably exhaustive research necessary to meet the Genealogical Proof Standard. Example documents illustrate the various and detailed information that probate records can hold about our ancestors, their daily lives, and family relationships."
The webinar is open to all genealogists who want to improve their skills, and begins at 8 p.m. Eastern (7 p.m. Central, 6 p.m. Mountain, 5 p.m. Pacific).
And, yes, it's free.
To register and receive your unique link to the webinar, please go to https://attendee.gotowebinar.com/register/5876550263529763585. To read more about BCG and the webinar series, check out SpringBoard, the blog of the Board for Certification of Genealogists.
That's where announcements of future webinars will be made, and where information will be posted when and if recordings of the BCG webinars become available later.
Hope you can join Michael and BCG on Monday!!