Come on, matchmaker… make me that match!
The Legal Genealogist's favorite cartoon of all time is one that perfectly sums up my view of patience.
It shows two vultures sitting on a branch. One of them turns to the other and says: "Patience, my ass. I'm gonna kill something!"
And oh boy does that sum up my attitude this fine Sunday morning.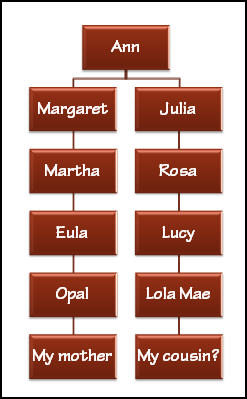 Because, after all, it's been a whole 48 hours, give or take a couple, since an Arizona man I sincerely hope turns out to be my cousin dropped his DNA test kit into the mail, priority postage attached, headed for the lab at Family Tree DNA.
And I'm dying to know what the results will show.
One of my most perplexing family history mysteries is the identity of the mother of my third great grandmother Margaret (Battles) Shew.
She married Daniel Shew sometime before 1849, most likely in Cherokee County, Alabama. There's no record of their marriage; the Cherokee County courthouse burned twice, in 1882 and 1895.1 They had one child, William, by the 1850 census2 and two more — Gilford and Martha Louise — by 1860, when Margaret appeared as head of household on the Cherokee County census, apparently a widow.3
We're pretty sure of Margaret's maiden name, but proof is hard to come by. It comes to us really from two sources: oral history passed down to Eula's daughter Opal;4 and the death certificate of her son William.5
And there was only one Battles family in Cherokee County, Alabama, at any time that could have included Margaret, and that's the family of William Battles, who was enumerated in Cherokee County in 1840,6 1850,7 1860,8 and 1870.9
It isn't clear who Margaret's mother was. William was married twice. His first marriage, to Kiziah Wright, resulted in a messy suit she brought against him for divorce that was finally dismissed in 1829, apparently when Kiziah died.10 His second wife was Ann Jacobs. They were married on Christmas Day 1829, and showed up on the 1830 census with — count 'em — five children.11 One of whom, I do believe, born well before that December 1829 marriage, was Margaret.
But how could we know for sure?
The answer lies, we hope, in that test kit now on its way to the lab.
You see, I am the daughter of a daughter of a daughter of a daughter of a daughter of Margaret's. So I have inherited the mitochondrial DNA — mtDNA for short — of whoever Margaret's mother was. That's the type of DNA that's passed down the direct female line from a mother to all of her children but that only her daughters can pass on.12
If Margaret was Ann's daughter, she would have had — and passed on — Ann's mtDNA. And any direct female-line descendant of any of Ann's other daughters would have that same mtDNA.
Exactly how many daughters Ann may have had isn't certain, but three of them were still living at home and enumerated in the household in that 1850 census: Samantha; Julia; and Charlsie.13
And the test kit now on its way to the lab is that of a man who is a direct female-line descendant of Julia. A man who, since mtDNA is inherited from the mother, has exactly the mtDNA I need: that of his mother's mother's mother's mother's mother — Ann Jacobs Battles.
So if we match… oh, if we match… I will finally know that Margaret's mother was Ann. And if we don't, then her mother was most likely Kiziah.
Lord, give me patience.
And I need it right now.
---
SOURCES
"Alabama Courthouses Destroyed by Fire," Alabama Department of Archives and History (http://www.archives.state.al.us : accessed 22 Mar 2014). ↩
1850 U.S. census, Cherokee County, Alabama, population schedule, 27th District, p. 136 (back) (stamped), dwelling 1055, family 1055, Danl Shew household; digital image, Ancestry.com (http://www.ancestry.com : accessed 22 Mar 2014); citing National Archive microfilm publication M432, roll 3. ↩
1860 U.S. census, Cherokee County, Alabama, population schedule, p. 315 (stamped), dwelling 829, family 829, Margaret Shoe household; digital image, Ancestry.com (http://www.ancestry.com : accessed 22 Mar 2014); citing National Archive microfilm publication M653, roll 5. ↩
Interview with Opal Robertson Cottrell (Kents Store, VA), by granddaughter Bobette Richardson, 1980s; copy of notes privately held by Judy G. Russell (also a granddaughter). ↩
Texas Department of Health, death certif. no. 10077 (1927), W.W. Shew (10 Mar 1927); Bureau of Vital Statistics, Austin. ↩
1840 U.S. census of Cherokee County, AL; 1840 U.S. census, Cherokee County, Alabama, population schedule, p. 116 (stamped), line 17, Wm Battles household; digital image, Ancestry.com (http://www.ancestry.com : accessed 22 Mar 2014); citing National Archive microfilm publication M704, roll 3. ↩
1850 U.S. census, Cherokee Co., Ala., pop. sched., 27th Dist., p. 136 (stamped), dwell. 1052, fam. 1052, Wm Battles household. ↩
1860 U.S. census, Cherokee Co., Ala., pop. sched., p. 314-315 (stamped), dwell./fam. 825, Wm Battles household. ↩
1870 U.S. census, Cherokee Co., Ala., pop. sched., Leesburg P.O., p. 268(B) (stamped), dwell. 26, fam. 25, W Battles household. ↩
Transcription, Records of the Blount County Circuit Court, 1824-1829; Circuit Court Clerk's Office, Oneonta, Ala.; transcribed by Bobbie Ferguson; copy provided to J. Russell and held in files. ↩
1830 U.S. census, St. Clair County, Alabama, p. 252 (stamped), line 24, William Battles 2nd household; digital image, Ancestry.com (http://www.ancestry.com : accessed 22 Mar 2014); citing National Archive microfilm publication M19, roll 4. ↩
ISOGG Wiki (http://www.isogg.org/wiki), "Mitochondrial DNA tests," rev. 9 July 2014. ↩
1850 U.S. census, Cherokee Co., Ala., pop. sched., 27th Dist., p. 136 (stamped), dwell. 1052, fam. 1052, Wm Battles household. ↩