Mason of Texas
You never know what you're going to find in a statute book.
Really.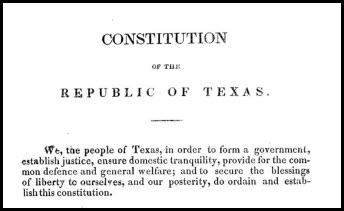 The Legal Genealogist is the daughter, granddaughter, and great granddaughter of Texans, so it's always fun to have time to poke around in old Texas records.
And I was poking around last night in a book of old Texas laws.
Really old Texas laws — those of the Republic of Texas.
Not because I was looking for anything in particular but just because it's fun. You never know what you're going to find.
Like the story of John T. Mason.
Right there, in the front of volume I of this two-volume set of Texas Republic laws, is the Constitution of the Republic of Texas.
Which contains this provision:
whereas the protection of the public domain from unjust and fraudulent claims, and quieting the people in the enjoyment of their lands, is one of the great duties of this convention; and whereas the legislature of Coahuila and Texas having passed an act in the year 1834, in behalf of general John T. Mason of New York, and another on the 14th day of March, 1835, under which the enormous amount of eleven hundred leagues of land has been claimed by sundry individuals, some of whom reside in foreign countries, and are not citizens of the republic, — … It is hereby declared that the said act of 1834, in favor of John T. Mason … and each and every grant founded thereon, is, and was from the beginning, null and void; and all surveys made under pretence of authority … are hereby declared to be null and void …1
Uh oh.
So… who was John T. Mason and what was wrong with his … um … land grab?
Turns out he was a native Virginian, son of Stevens Thompson Mason, a Continental Army officer and later United States Senator from Virginia.2
He was born in Loudon County, Virginia, in 1787, and was just 25 when he moved to Kentucky. There, he became United States marshal by appointment of President James Monroe. He was named as secretary of the Territory of Michigan and superintendent of Indian affairs in 1830 by President Andrew Jackson.3
And then came the land situation.
Mason resigned from his U.S. government jobs in 1831, and took a job as confidential agent for the Galveston Bay and Texas Land Company — a New York company. This was a major land speculation operation involving millions of acres of land, shares being sold to stockholders, and grants being promised to those who would migrate into Texas and take up residence there.4
And it was John Mason's job to represent this company and see to it that everything went smoothly.
Except for one little hitch.
There was an 1830 Mexican law barring immigration to Texas from the United States. The New York company couldn't deliver title to the people it was recruiting.5
Mason headed off to Mexico and secured extensions of the underlying land rights. By 1833, he'd managed to convince the Mexican government to repeat the law against American colonization. He then resigned from the land company, bought some 400 leagues of land — nearly two million acres — for himself, and was doing his own land office business: literally and figuratively.6
In the meantime, in reliance on the laws he'd secured, the New York land company had issued titles for more than 916 square leagues of land — nearly four million acres — by 1835.7
And then the house of cards came crashing down. Mason's land ownership and all the grants dependent on it and on the laws he'd secured were expressly annulled by the Constitution, adopted 17 March 1836. His land business was pretty much destroyed.8
He didn't turn his back on Texas, however. He stayed there and eventually supported the Texas revolutionary cause. And he paid the ultimate price for his Texas loyalty — he contracted cholera there and died in Galveston in 1850.9
Now think about that.
Here we have the story not just of one man, but of a company, its shareholders, the immigrants it brought to Texas, all their land grants and titles and the years of lawsuits that followed as people tried to settle who owned what.
And all from one small paragraph in one small section of a single document in a set of statute books.
You never know what you're going to find in a statute book…
---
SOURCES