Happy birthday to my youngest aunt
She is my mother's youngest sister, the youngest of all my mother's siblings and the member of that generation closest to my own age.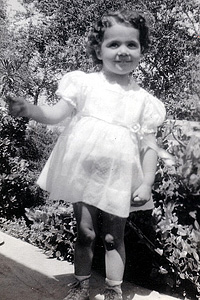 She was an aunt before she was born — her oldest niece was two years and nine months her senior — and she has outlived both parents, three of her six brothers and all five of her sisters.
And today is her birthday.
My aunt Trisha is one of those very special people every family has — a bridge between the past and the present, someone who knows what it's like to cry, someone who knows how to make others laugh, someone who helps bind us all together even as she blazes her own path.
And today is her birthday.
She was born an unspecified number of years ago1 in the same West Texas town where so many of her siblings was born and where they all were raised. All I will say is that she didn't make it onto the 1940 census of Midland, Texas, where her parents, my grandparents Clay and Opal (Robertson) Cottrell, and so many of her siblings — including my mother — were enumerated.2
As you can see from the photos, she grew from an adorable toddler into a beautiful little girl. In 1951, she sent a letter to my mother — it's one of my prized possessions:
Thanks alot for the quarter. How are you, … I am getting along good in shool. … Bing3 is a rascal. He eats eggs and gets in bed with Jerry4 with muddy feet. Now do you see what I mean about Bing being a rascal? The school sells icecream everyday. This is the kind they sell. Bananas, chocolate, and orange. If icecream wouldn't melt Id send you some. I will write again as soon as you anser me. You might as well be waiting for another letter. When I write a person a letter I like for them to sit right down and anser me just then. … Please anser soon.5
And she grew from a beautiful little girl into a gorgeous woman… and into the treasure she has become for all of us. A daughter, a sister, a wife (now of more than 50 years), a mother, an aunt, she was there during the very best of times for my family and for the very worst.
She has fought cancer, lost her own father — my grandfather — on her birthday in 1970, been saddled with family responsibilities — and has never once forgotten how to laugh.
She has been my co-conspirator at times, my mentor at others, and above all else my friend.
What you see below is another of my prized possessions. It's a photo from more years ago than any of us would care to admit.
I am the toddler being held in this last picture, and Trisha the dark haired girl on the left holding me up along with my cousin, her niece Betsy. The others are also her nieces — my cousin Kay on the far left, my sister Diana on the far right.
Today is Trisha's birthday.
May there be many more to come.
And may I be able to hold her up once or twice in the years to come, to at least begin to say thanks for all the times that she has held me up in my life.
---
SOURCES