Updated terms of use
In June of last year, all that could be said about terms of use at the popular website Find A Grave was…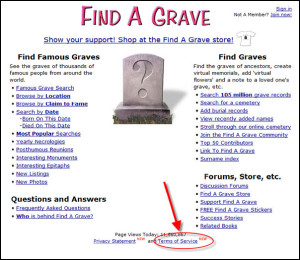 There weren't any.1
What a difference a year makes.
Because Find A Grave certainly has terms of use now, and they're causing one reader to scratch her head.
Terms of use, you may recall, are "the limits somebody who owns something you want to see or copy or use puts on whether or not he'll let you see or copy or use it. These are limits that are different from copyright protection, since the law says what is and isn't copyrighted and you can own a thing without owning the copyright. So this isn't copyright law; it's contract law — you and whoever owns the thing you want to see or copy or use reach a deal."2
And in the case of Find A Grave, it's the terms of use that govern first and foremost what the general web-using public can do with all the content — the words and photos and more — that Find A Grave members upload to the site and, just as importantly, what rights Find A Grave has to that content.
Updated as of 17 June 2013, Find A Grave's terms of use say this about the use of its site:
The Website contains graphics, information, data, user generated information, editorial and other content accessible by users (the 'Content') and all Content is owned, licensed to and/or copyrighted by Find A Grave and may be used only in accordance with this limited use license. The Website is protected by copyright as a collective work and/or compilation, pursuant to U.S. copyright laws, international conventions, and other copyright laws. You may access the Website, use the graphics, information, data, editorial and other Content only for personal use, professional family history research or scholarly historical research. Republication or resale of any of the Content or other protected data is prohibited. Bots, crawlers, spiders, data miners, scraping and any other automatic access tool are expressly prohibited.3
And that language is giving reader Debbie Dale pause: "Can you explain their idea of 'Content?'," she asks. "Does that include information found on a digital photograph of a headstone? Am I wrong in thinking that only the photograph is protected by copyright and not the birth/death info I transcribed from the headstone — which I had hoped to use in a blog post."
Let's start with the really easy part of the question: is there a copyright issue in using birth/death information appearing on the site? No. The purely factual information contained on Find A Grave — the names of the deceased, their dates of birth and death, the places of the burial — are not and cannot be copyright protected. The law couldn't be clearer that point: only original works with some degree of creativity can be copyrighted.4 "Copyright does not protect facts, … although it may protect the way these … are expressed."5
Find A Grave doesn't even try to claim that it has a copyright on purely factual information or on content (like photographs or text) it receives from its members: "No copyright is claimed on non-original or licensed material."6
What it does claim is what's called a compilation copyright — a copyright on the site as a whole, the way it looks, the way it works, the underlying code that makes it all come together. In a case like this, the copyright covers "only the additions, changes, or other new material appearing for the first time in the work. Protection does not extend to any … material, … owned by a third party."7
So the law isn't any bar to using the factual information Debbie wants to use.
But what about that limited use license that says "(r)epublication … of any of the Content … is prohibited"?
Sigh…
Here's where The Legal Genealogist really really really wishes people who write terms of use would stop and think for a minute before they write them.
Because — no matter what the exact words are — there's no way that Find A Grave really means that a user like Debbie can't use the purely factual information on the site, giving — of course! — proper credit to the site as the source.
Let's be serious here. If all we could do was oooh and aaah while reading or looking at what's on that website, and not use it in our research, write it up, publish it, share it with others, none of us would be taking photos and uploading them and other info to Find A Grave. Reading that language that restrictively is inconsistent with the whole purpose of the website, and Find A Grave itself says that "(f)or User Provided Content, Find A Grave is merely hosting and providing access."8
Its terms of use for content that users upload explain that:
By submitting User Provided Content to Find A Grave, you grant Find A Grave a transferable license to use, host, sublicense and distribute your submission to the extent and in the form or context we deem appropriate on or through any media or medium and with any technology or devices now known or hereafter developed or discovered. Except for the rights granted in this Agreement, Find A Grave acquires no title or ownership rights in or to any content you submit and nothing in this Agreement conveys any ownership rights in the content you submit to us.9
And, it says,
Once you upload content to the Website, it may become accessible by all persons accessing the Website. Other Website users may be able to copy, download, store, edit, change or delete certain content that you post. You may delete content that you previously posted on the Website; however, if others have downloaded or otherwise stored copies of the content, it may still be publicly viewable.10
So my take on this is simple: the "no republication" part has to be read together with the sentence that follows it — "Bots, crawlers, spiders, data miners, scraping and any other automatic access tool are expressly prohibited." What Find A Grave considers a violation of its terms of use is grabbing all, or even a big chunk, of the content.
Using specific factual information for a blog post, by contrast, is exactly why Find A Grave exists — to make information about our families more accessible and more useful. Not to lock it away.
---
SOURCES