Registration fee covered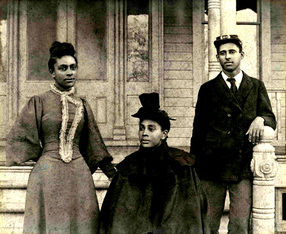 So you've decided that it's time to get some formal genealogy education and you've chosen the "Beginning Methods and Strategies" Track at MAAGI — the Midwest African-American Genealogy Institute (MAAGI) scheduled for July 9-11, 2013, in St. Louis — you say?
And you're committed to going because you're finally ready to take the plunge into finding out all those tips and tricks that you need, even though the cost is threatening to break this year's genealogy budget, you say?
And you're going more than anything else because you've got that one brick wall in your research that you'd really really really like to get some help with, you say? Not that any genealogist only has one brick wall, of course, but there's that one in particular?
Then listen up! Because somebody who's going to that "Beginning Methods and Strategies" Track is going to find out on Day One that there's a scholarship waiting there — and who knows? It just might have your name on it.
Sponsored by the Evolution Consulting Group (ECG) — a Virginia-based minority-owned business focusing on guiding organizations through transitions in their goals and developments — this scholarship will cover the entire $300 registration cost for the "Beginning Methods and Strategies" Track at MAAGI. It's going to be announced the morning that the sessions begin at the campus of Harris Stowe State University.
It's not a random drawing — you need to act to try to earn it — and here's what you need to know:
• You need to submit a paper describing your "genealogy brick wall" and why you're going to be attending MAAGI.
• The paper should be at least 1,000 words and should be in Microsoft Word format. (You can usually "Save As" Word format if you use another word processing program.)
• The deadline for submissions is 30 May 2013 at 5:00 p.m. EDT.
• Submissions should be sent by email to info@evolutionconsultinggroup.net with the subject line "MAAGI-Brick Wall."
• Any questions you have can be sent to the same email address.
If you haven't decided yet whether to attend MAAGI, you really should consider it. It's got some great offerings by very talented instructors, including Shelley Murphy, Ph.D., coordinator of the "Beginning Methods and Strategies" Track; Bernice Bennett, coordinator of the "Technology and Social Media" Track; Janis Minor Forté, coordinator of the "Pre & Post Emancipation Records" Track; Angela Y. Walton-Raji, coordinator of the "Genealogy as a Profession" Track; and Jim Vincent, coordinator of the "Greater St. Louis History, Heritage, and Legacy" Track.
In the "Beginning Methods and Strategies" Track that this scholarship will cover, for example, individual sessions include:
• Planning and Preparation for your Genealogy Project
• Time and File Management Essential for Genealogists
• Oral History – The First Step
• Building Your Research Plan for Family History
• Vital Statistics and Basic Records to Find Ancestors
• Understanding Your Ancestor's Land Records
• Ancestral Fraternal Memberships & Benevolent Societies
• Online Records, Resources and Social Media
• Unique Records for People of Color (Enslaved and Free)
• File Analysis, and Overcoming Brick Walls
• Putting it All Together
You can get more information on this and all the tracks at the Midwest African-American Genealogy Institute (MAAGI) website.