Once again remembering the fallen and those who remembered them
It is Memorial Day here in the United States–the official holiday and the end of the three-day weekend during which we honor those who gave all for the cause of American freedom.
It was added to the federal holiday calendar in 1888 as Decoration Day1 and moved to the Monday holiday calendar along with Labor Day, Columbus Day and Veterans Day in 1968.2
It is a time set aside for us all to honor the men and women who died in the service of this country in order that we might live free.
The Legal Genealogist can identify at least five family members who gave their all in defense of freedom:
• In the Revolutionary War, Richard Baker. He was born 23 December 1753, most likely in Culpeper County, Virginia.3 So he was just 23 years old when he died, on a cold December day in 1776, a casualty of the Battle of Trenton. His death only recorded in the pension application of his brother, my fourth great grandfather David Baker.4 Unmarried. Leaving no descendants.
• In the Civil War, though most of my kin wore Confederate grey, some did not. In particular, one group of my Battles cousins from Cherokee County, Alabama, were loyal to the Union, and proudly donned Union blue, joining the 3rd Tennessee Cavalry in 1863. Isaac Battles and his cousins James, Russell and William F. Battles went off to war. Only Russell came home. Isaac, James and William F. Battles all perished, not in the war itself, but in the explosion and sinking of the steamer the Sultana in April 1865, with some 1700 or more other Union soldiers just freed from Confederate prisoner of war camps.5
• And in World War II, Philip Cottrell. My mother's first cousin. Born 16 April 1920 to John W. Cottrell, my grandfather's brother, and Abigail Claymore, John's second wife. A Marine Corps pilot in training in the summer of 1943, assigned to a training squadron at the Mojave Marine Corps Air Station — a station which saw four pilots killed in training accidents between the first of August and the 7th of September in 1943.6 And the first to die in those terrible weeks.7
And it's that last one that hits me personally the hardest, every time. I've told this story before,8 but it's a story that deserves retelling, again and again, so that it will never be forgotten.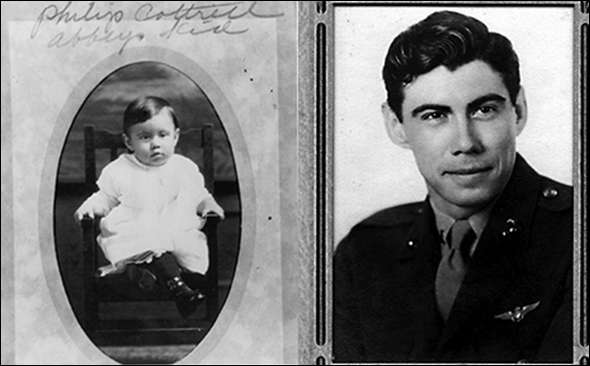 You see, Phil never married, his parents are both long gone.9 His only sibling, his half-sister Mattie, died in 1980.10 My mother, Phil's first cousin, never spoke of him. The only reference to him in our family records was in a note my grandmother wrote in 1951 when the family learned of John's death: "We got word today that John had passed away Apr. 12 – John Cottrell, Mobridge S. Dak. His only son Ens Philip Cottrell was killed over the Mohave Desert in a Navy training plane in 1942."11 That information didn't even have the year or branch of service info correct.
So who would remember Phil any more? And, when South Dakota put together its World War II Memorial12 and dedicated it in September 2001, who in South Dakota would care?
The answer — one I am so very grateful for — is the Coffin family of South Dakota. Roy H. Coffin (1920-2010) was Phil's closest friend, who himself saw active duty in the U.S. Navy during World War II.13
When South Dakota began the process of putting together its World War II Memorial, it asked members of the public to particularly honor family members by sponsoring their names in a Registry of Remembrance. Roy's youngest sister, Mary R. (Coffin) Giddings of Fort Pierre, S.D., responded by including remembrances for brothers Earl, Roger (killed in action in 1944), Roy, and Zane, and sister June, all of whom served in World War II.
But that's not all. Mary didn't stop there: "I hadn't heard of any Cottrells in this area and I wanted Phil to be remembered."14 And in that same memorial, there he is. Philip Cottrell. Donor: Mary R. Coffin Giddings.
And that's not all. At the dedication of the Memorial on 15 September 2001, dogtags with the names of all those who fell in World War II were placed on the markers. Family members were invited, at the end of the dedication ceremonies, to take the dogtags for those they lost. Again, no-one from the Cottrell family was there. But the Coffins — Roy and Mary — were there: "After all the ceremonies were over and no one claimed Phil's dog tags (hung on the crosses commemorating those killed in W.W.II), Roy took them home with him."15
And even that's not all. We had no — repeat no — photos of Philip that we knew of then. Mary sent the one you see here of Philip in his uniform and a copy of the memorial text that was sent to the SD WWII Memorial project. Her sister, June (Coffin) Livesey of Georgia, who had boarded with John and Abigail as a schoolgirl, sent information we'd never have had otherwise. The whole family helped us locate Philip's cousins on his mother's side, from whom we received more photos, including the baby photo here.
Without Mary and her family, without their friendship for Phil, without their help, my family — all of us who are Phil's cousins — would have missed out on so much.
So, on this Memorial Day 2022, as we have in prior years, we note how grateful we are for all those who have given their all in the cause of freedom and we pause to honor them and offer our thanks.
But we note as well how grateful we are and we pause once again, as we have in prior years, to honor those who have remembered our fallen when we ourselves could not.
---
Cite/link to this post: Judy G. Russell, "Memorial Day 2022," The Legal Genealogist (https://www.legalgenealogist.com/blog : posted 30 May 2022).
SOURCES