New online ordering system
There's good news and bad news on the "please may I have a copy of that application for a Social Security number" front.
The bad news is, all of us — The Legal Genealogist included — are going to have to get used to a whole new ordering system for the form known as the SS-5.
The good news is, it's a really easy system, and the fee of $21 whether you do or don't have a Social Security number is less than what it's been historically, and is reasonable considering what we might get from this document type.
Now… let's back up a minute and go over, again, what this is all about. (I say again because this isn't the first time this has come up.1) So let's cover what this form is and so what exactly we want to order — and then how to get our hands on it.
What the SS-5 is
The SS-5 is a form now held by the Social Security Administration that's generally known as an Application for a Social Security Number. The example below is my grandfather's SS-5 form from 19372: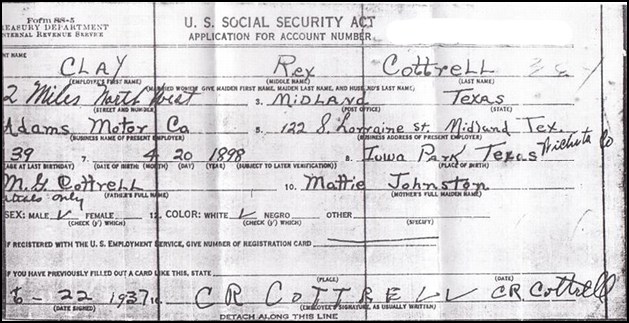 Like most of these forms used from the very beginning of the Social Security system in 1935, this form required a number of key pieces of information, including:
• First, middle and last name
• Present mailing address
• Age at last birthday
• Date of birth
• Place of birth (including city, county and state)
• Father's full name
• Mother's full maiden name
• Race or color
• Date and signature
At various times, an applicant may have also had to specify his or her full name at birth, including maiden name if a married female, the name of the current employer and employer's address, and other information.
So getting a copy of this form is almost always worth it. The information on the SS-5 form was usually provided by the applicant, and so is often the best source of information about what the applicant knew about his or her own birth and parentage.
The worst we'll get is information supplied by an employer that filled out the form from its employees' records and had them sign it — which adds another layer of possible human error, or the lie the applicant told for whatever reason. In my family, for example, a cousin on my father's side listed her grandparents as her parents to avoid having to admit that she'd been born out of wedlock. But even that information is worth having.
Whose record we can get
We can get a copy of the Social Security Number Application (Form SS-5) of any person if:
• The person whose record we're asking for has given us written consent to get it; or
• The person whose record we're asking for is deceased, and we can prove it; or
• The person whose record we're asking for was born more than 120 years ago.3
And because of a change in the law in 2013, there's one more limit: if we're asking for the record of a deceased person, that person must have died more than three full calendar years before the date of our request.4
What exactly to order
There are two forms we might get from the Social Security Administration: the Photocopy of Original Application for a Social Security Card (SS-5) for a Deceased Individual; and the Computer Extract of Social Security Application (Numident) for a Deceased Individual. The SS-5 costs $21, the Numident costs $20.
We want the first one. The computer extract often doesn't have all the same information as the SS-5, it's not a copy of the original anyway, it won't have the original signatures, yadda yadda yadda.
Always always always pony up the extra dollar and order the Photocopy of Original Application for a Social Security Card (SS-5).
How to order the SS-5
To order a copy of an SS-5, we've always had to make a formal request under the federal Freedom of Information Act (FOIA) using Form SSA-771. For years, we've been able to do it online or by mail.
There's no change in the mail ordering system: download Form SSA-711, fill it out and send it off with a check.
It's the online ordering system that's different. SSA FOIA requests are now being handled through the general FOIAonline website of the federal government, and not directly with SSA at all.
Here's the how-to directions:
1. Head over to the FOIAOnline website new request page. (If you have trouble with that link, go to the FOIAOnline home page, then choose Create Request from the three options at the top and then click on the Begin.)
2. Under Agency Selection, use the dropdown menu to get to the Social Security Administration (click on your choice to make sure it shows up in that agency box). READ THE DIRECTIONS THERE. It tells you, for example, that you will need to elect in the Additional Information field of the form what type of request you are making. For these records, always choose "Photocopy of Original Application for a Social Security Card (SS-5) for a Deceased Individual."
3. Under Request Type, leave it alone.
4. Under Contact Information, this is YOUR information. If you include an email address, you will get a confirmation that your request has been received. I would certainly do it.
5. Under Processing Fees, leave it alone. Remember, this is a set $21 fee request, and you're going to have to pay in advance.
6. Under Description, I would include the person's name, SSN if known, and date and place of birth if known. Essentially, I would duplicate the info you're going to enter again under the Additional Information field.
7. Under Request Expedited Processing and Request a Fee Waiver, leave as No (those are not available for this kind of request anyway).
8. Under Additional Information, use the dropdown menu to choose "Photocopy of Original Application for a Social Security Card (SS-5) for a Deceased Individual." You will now get an entire form to fill out and fill out as much as you can:
• Certification — generally No (it costs $10 and why would you need it?)
• Are You Providing the Subject's SSN? — It will cost less if you answer Yes and provide it
• Social Security Number
• Date of birth
• Name of Individual at Birth — enter as First Middle Last
• Gender
• Deceased Individual's Parent/Mother's Name at Birth — mother's maiden name in full if known
• Deceased Individual's Parent/Mother's Married Name(s)(if any) — mother's married name if known
• Name(s) of Individual(if other than above/other names(s) used) — e.g. a woman's maiden name
• Deceased Individual's Parent/Father's Name at Birth — if known
Now… there is one more field on this form — Attach Supporting Files. This could be a critical part of your request, and here's why.
First of all, remember that SSA "will not disclose information about any person in our records unless: 1) the number holder has provided written consent or we have acceptable proof of his or her death; or 2) the number holder is at least 100 years old and we have acceptable proof of his or her death; or 3) the number holder is more than 120 years old."5
Generally speaking, the SSA has in the past accepted the fact that the person's name appears on the Social Security Death Master File (what we know as the Social Security Death Index or SSDI) as proof that the person is deceased. But since 2011 not all deaths have been included in the public version of the SSDI — that's when the SSA stopped including deaths from protected state death reports.6 Moreover, the public SSDI hasn't been updated in years — and it's just not clear whether the SSA will look to its own records instead of the public version to determine whether someone is deceased.
So with newer deaths, deaths of younger persons, and as to anyone whose name we can't find in the public SSDI, we should supply proof of death and that means sending acceptable proofs which may include:
• a copy of a public record of death; or
• a statement of death from a funeral director; or
• a statement of death by the attending physician or the superintendent, physician, or intern of the institution where the person died; or
• a copy of the coroner's report of death or the verdict of the coroner's jury; or
• a copy of an official report of death or finding of death made by an agency or department of the U.S. which is authorized or required to make such a report or finding in the administration of any law of the U.S.; or
• an obituary with sufficient identifying information.7
That same set of privacy rules applies to the applicant's parents' information as well — and that's often what we really want. So we may need to submit something to show that they're dead or were born long ago enough to be presumed dead, too. The types of proofs I've used on occasion for this purpose include an obituary of the person saying the parents predeceased the person; death records of the parents; tombstone photos; and a census record showing the ages of the parents.
In the past, though, I've always had to send this by mail. Now, for the first time, we can attach those right to our request form in this online system. No more sending things by mail and waiting… and waiting… No more getting turned down from an online request because we couldn't send in the proofs.
Once you've gotten everything the way you think you want it, you'll be able to preview the request and must accept the terms and affirm that everything you're doing is legal. (It is, don't worry.) Once you approve everything in the previous, you'll be redirected to the Pay.gov website to pay online.
If you gave an email address in the Contact Information part of the form, you'll get an email confirmation.
And with luck in two to six weeks you'll get what you're looking for.
---
Cite/link to this post: Judy G. Russell, "Ordering the SS-5: 2020 style," The Legal Genealogist (https://www.legalgenealogist.com/blog : posted 16 Nov 2020).
SOURCES