That reasonably exhaustive research thing again…
There's one question The Legal Genealogist asks with respect to any genealogical database.
How do I know?
And if there's one genealogical database where that question has to be asked most frequently, it's my own.
You see, I started entering data into that database back when I was a baby genealogist.
You know what that means: a not-insignificant portion of the entries were just plain wrong and a whole lot more of them were either undocumented or inadequately documented.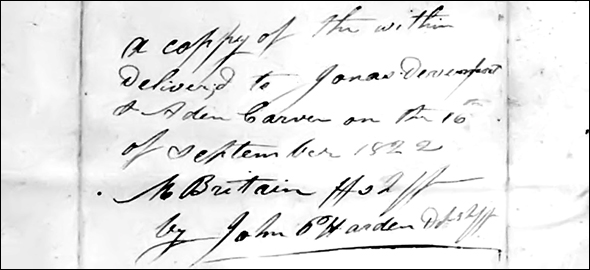 I found that out, again, last night when I was looking into the family of Nancy (Baker) Davenport, who died in Mitchell County, North Carolina, 137 years ago today.1 She was my third great grandaunt in my Baker line and — because of cousins marrying cousins in more than one generation — my second cousin six times removed in the Davenport line.
Nancy herself married a Davenport cousin, Jonas Davenport, in North Carolina.2 And Jonas was one of 11 children of Martin Davenport,3 my fifth great granduncle and first cousin six times removed.
Now… look down at the source citations for all three of those factual assertions: Nancy's death date; her marriage to Jonas; Jonas' father.
Yep. All cited to the same derivative source. Meaning "a record created from a prior record."4 In other words, as far as my own research is concerned, it's hearsay.
Now the work I'm citing is one I'm familiar with, and over the years I've found it to be pretty darned good, but what if they got something wrong, or made an assumption that I'm not aware of, or whatever they were relying on as a source was wrong?
If so, then I've just repeated that mistake.
So I started out with Jonas' father. Could I prove that he was in fact the son of Martin Davenport?
Frankly, I expected the answer to be no. Other than relying on the derivative source book, my evidence is that Jonas was born around 1775, most likely in Culpeper County, Virginia, where the Davenports and Bakers lived before coming to North Carolina.5
No birth records on that one — and death records don't start in North Carolina until 1913.6
If that's not bad enough, consider that the Davenport family lived in Burke County during Martin's lifetime, and Burke is — sigh — a partially burned county. "Partially" in that the court records survived an 1865 fire, but things like land and probate records mostly didn't.7
The land records that do survive don't help: Martin Davenport's state land grants don't name Jonas in any way; Jonas' land grants don't name Martin.8
Out of luck?
No. Because, remember, the court records do survive.
And tucked in those court records is a copy of a complaint filed in the Burke County Court of Common Pleas and served on Jonas Davenport on 16 September 1822. David Tate was suing Aden Carver "& the Heirs at Law of Martin Davenport" for partition of land.9
In it, Tate said that Martin Davenport had died in 1815 owning land, including one 150-acre tract and one 100-acre tract in Burke County, and that in 1820 he had purchased the shares of David Davenport and Thomas Cole (in right of Cole's wife Hannah). He wanted the land partitioned so he could get clear title to the shares he'd bought.10
And — mirabile dictu — he listed every last one of the heirs of Martin Davenport: "William, Thomas, Jonas, Robert, Abner, & David & Martin Davenport, Hannah married to Thomas Cole, Polly married to John Hopper, Nancy married to Gilbert White & Betsey to — Browning." Each owning or having disposed of a one-eleventh share.11
All 11 of Martin's children. Daughters with married names. In a roughly contemporaneous document where the contents would need to be proved to a court.
It doesn't get much better than that.
How do I know?
Reasonably exhaustive research led me to an original record giving me a more reliable answer than my derivative source book.
That's how.
---
Cite/link to this post: Judy G. Russell, "Linking father and son," The Legal Genealogist (https://www.legalgenealogist.com/blog : posted 15 Feb 2020).
SOURCES