Revisiting county boundaries
The Legal Genealogist is heading off to Carlsbad, California, tomorrow on the last long-distance road trip of the year, for a a day of fun with a return visit to the North San Diego County Genealogical Society and its 2019 Fall Seminar at the Carlsbad Senior Center.
That sent me off into the California law books again, and revisiting the question of county boundaries.
Because what as North San Diego County historically sure was a lot further north than North San Diego County today.
So let's revisit that issue with the same sort of question that I posed last week before speaking to the San Mateo County Genealogical Society.1 And this time let's say that our research target — an early California ancestor — was enumerated in San Diego County in the 1852 California census.
You did know there was an 1852 California census, right? As explained by the California State Library: "The first federal census conducted in California was taken in 1850, while the Gold Rush was in full swing. Adventurers were pouring into the state, and they were very mobile in their search for the next paydirt. As a result, the accuracy of the count was questionable. Also, records for the counties of Contra Costa, San Francisco, and Santa Clara were lost or destroyed. To obtain a more reliable picture of the population, the State of California conducted its own census in 1852, the only one in the state's history."2
So… take this ancestor from that census, and tell me where you would look for records of his life if he stayed in the exact same place from his birth in 1840 until his death in 1910.
As with so many of these county boundary questions, the answer is not so easy.
We start, of course, with the fact that, in 1840, California was still a department of Mexico called Las Californias. It had been a province of New Spain as of 1768, divided into Alta (upper) and Baja (lower) California in 1804, and reunited into Las Californias as a department of Mexico in 1836. When Mexico ceded what became California to the United States under the Treaty of Guadalupe Hidalgo in 1848, it was an unorganized territory.3
As of February 1850, San Diego became one of the 27 original counties of the then-proposed State of California, along with Branciforte (later Santa Cruz), Butte, Calaveras, Colusi (later Colusa), Contra Costa, El Dorado, Los Angeles, Marin, Mariposa, Mendocino, Monterey, Napa, Sacramento, San Diego, San Francisco, San Joaquin, San Luis Obispo, Santa Barbara, Santa Clara, Solano, Sonoma, Sutter, Trinity, Tuolumne, Yola (later Yolo), and Yuba.4
And it was huge. It covered everything from the Nevada border in what is today Inyo County down to the sea and Mexican border at Tijuana. Our 1852 ancestor would have been somewhere in this area:
The first big change to the county lines was in 1851, when the boundaries of Los Angeles County were greatly expanded,5 and there wasn't another change before the 1852 census.
So our 1852 ancestor would have been living somewhere in this area: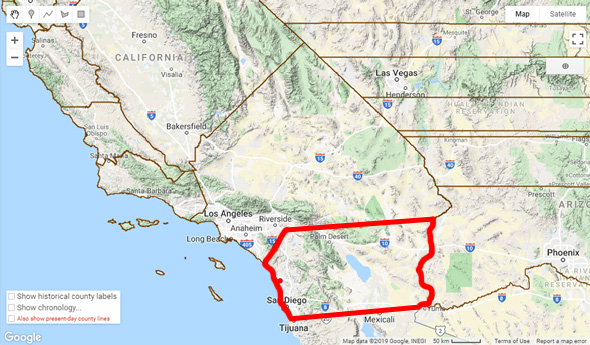 There was another very small boundary change in 1873, when the county gained a little bit from Los Angeles and lost a little bit to San Bernardino,6 and then a big one 20 years later when Riverside County was created in 1893.7
That's when San Diego County looked like this:
The last boundary change was in 1907, when Imperial County was created.8
At which point San Diego County ended up looking like this:
So… to trace our 1852 ancestor from 1840-1910, we'd have to be sure we knew exactly what jurisdiction he was in at what time — beginning with Mexico and including San Diego County … or anywhere in what was San Diego County in 1852, but didn't stay that way.
Isn't genealogy fun?
---
Cite/link to this post: Judy G. Russell, "Mapping San Diego," The Legal Genealogist (https://www.legalgenealogist.com/blog : posted 7 Nov 2019).
SOURCES
Images: Adaptation of screen captures, Historical U.S. Counties on Google Maps, RandyMajors.com.