The rules for attribution
Google Maps are truly wonderful resources and many genealogists (and others!) use them all the time — in articles, on websites, in presentations and more.
Which, The Legal Genealogist hastens to add, is (a) perfectly legal as long as (b) we stay within the terms of use provided by Google itself.1
And that led reader David Mills to ask: "How is the attribution worded for using Google images from Google Maps and used on a web site and is there a particular place it should be positioned?"
A wonderful genealogical question, as well as a terms of use question, since an essential element of meeting the Genealogical Proof Standard is that we cite our sources.2
So… what if we want to use this map showing the location of the Empire State Building in New York City from Google Maps?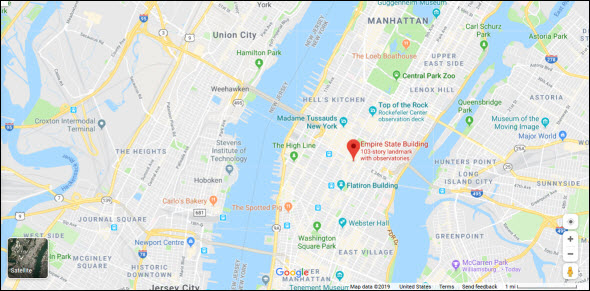 Before we begin, just a quick reminder: terms of use are the limits somebody who owns something you want to see or copy or use puts on whether or not he'll let you see or copy or use it. These are limits that are different from copyright protection, since the law says what is and isn't copyrighted and you can own a thing without owning the copyright. So this isn't copyright law; it's contract law — you and whoever owns the thing you want to see or copy or use reach a deal: a website lets you access information and you agree to use it only in the ways the website says you can.3
Google sets out its terms of use in pretty clear language. It starts with an overall Terms of Service page that says, among other things: "Don't misuse our Services. For example, don't interfere with our Services or try to access them using a method other than the interface and the instructions that we provide. … Using our Services does not give you ownership of any intellectual property rights in our Services or the content you access. … Don't remove, obscure, or alter any legal notices displayed in or along with our Services."4
It then has a Google Maps/Google Earth Additional Terms of Service page that provides, again among other things, that "Google grants you a non-exclusive, non-transferable license to use Google Maps/Google Earth, including features that allow you to: (a.) view and annotate maps; … (and c.) publicly display Content with proper attribution online, in video, and in print…"5
Two other pieces are part of the overall Google permissions process — a legal notices page and a privacy policy — which users should review but don't impact this issue.
So if we have a license — legalese for permission — to use these maps online, in print and elsewhere "with proper attribution," how do we know what "proper attribution" is required?
Easy: Google tells us, on yet another page, its Permissions : Google Maps & Google Earth page.6 And that says, in relevant part:
All uses of the content must provide attribution to both Google and our data providers. We require clear, visible attribution when the content is shown. You may not move the attribution to the end credits or fade it out after a few seconds.
Note that if you (a) embed a classic map, Street View panorama, or My Map; (b) use one of our APIs on the web or in an application; or (c) use Google Earth Pro, or Earth Studio on desktop; then the necessary attribution is already baked into the map and no further credit is needed.
Baked in? Yup. Note this particular part of the map, with one arrow pointing to the Google logo and the second to the copyright statement:
Now that's awfully small in this screen capture, since blog post images generally aren't enormous. And Google does have yet another page of help and guidance where it says that the text needs to be legible to the average reader or viewer.7
Which is why this blog post has that one more line you'll see below, under the word Sources. It reads: "Image: Empire State Building, New York City; Map data ©2019 Google (https://www.google.com/maps/ : accessed 9 Sep 2019)."
So have at it, David — we're free to use Google maps as long as we properly attribute them.
---
Cite/link to this post: Judy G. Russell, "Citing Google Maps," The Legal Genealogist (https://www.legalgenealogist.com/blog : posted 9 Sep 2019).
SOURCES
Image: Empire State Building, New York City; Map data ©2019 Google (https://www.google.com/maps/ : accessed 9 Sep 2019).