Not as I did…
You'd think by then The Legal Genealogist would have learned.
I mean, seriously, by the time I was entering that information in my genealogy database program, I'd have thought my experience with one particular part of working with genealogical records would have saved the day.
The "citing your sources" part.
So it should have been an easy slam dunk to find those particular sources last night when I was thinking about what blog post to write for today.
After all, my database tells me, this is the 139th anniversary of the birth of my grand aunt Abigail (Claymore) Cottrell. She was born in South Dakota 15 December 1879 and died there 17 January 1965.1 And Abbie is one of those interesting people you just want to know more about, so writing about her today was a no-brainer.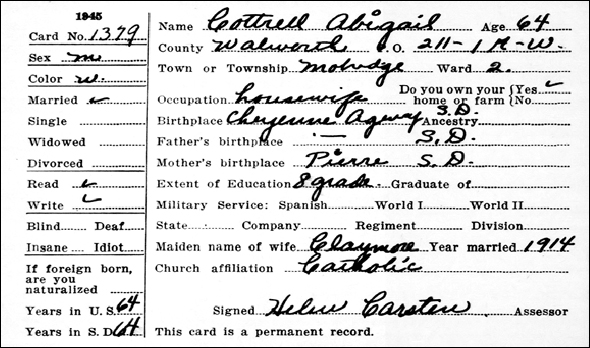 When I say interesting people… well … we start with the fact that Abbie was Miniconjou — a Lakota Sioux — recorded on the Indian population schedules of the U.S. census as 5/8ths white (and so 3/8ths Indian) in 1900 2 and 1910.3
She met and married my grandfather's brother, John W. Cottrell, there in South Dakota,4 where John, then a widower with a young child, was a rancher. You can find the family on the 1920 census of Dewey County, South Dakota,5 and in the 1925 South Dakota state census with John's daughter Mattie and their one child together, then-five-year-old Phillip.6
But the family wasn't together in 1930. You can find John and Phillip in Mobridge on that census,7 but Abbie wasn't listed with them. She was, instead, at the South Dakota State Sanitarium in Custer County8 — being treated for tuberculosis, a disease she'd contracted at an early age and lived with as a chronic condition her entire life.9
Abbie's life was never easy. She and John suffered a terrible loss when Phillip was killed in a World War II plane crash in 1943.10 And then she lost John in 1951.11 She herself died in 1965.
See what I mean? A really interesting person… and one with definite bookends: born 15 December 1879; died 17 January 1965.
Except that — well — um — er — my source citations for both of those basic facts are … well — um — er — can we just say "somewhat lacking"?
My source note for Abbie's date of birth reads: "according to information provided by Donna Sherwood, whose mother-in-law was Abigail's first cousin."
Do you think I can find the email from Donna Sherwood now? Nope. Do you think I even know when I got that email? Well, it was sometime around 2003. And do I have any corroboration for the date at all? Um… no.
Her tombstone says she was born in 1880.12 Her obituary says the same thing.13 And she's on the 1886 Indian census rolls as a six-year-old.14 So that looks like maybe 1880, not 1879.
On the other hand… while she's not on the 1880 census by name with her parents, there is a unnamed female child shown as born in November 1879 on that census.15 So maybe 1879 after all.
But… sigh… none of this was recorded in my database last night.
So… moral of this story #1: begin by recording all the information you receive. Things like the date of the email from that relative of Abbie's would have helped. Her email address and physical address would have helped even more.
And of course… moral of this story #2: do your homework even, or maybe even especially, with family stories. And when you do that homework, write it down. That's one thing this blog helps me with — it gives me a place to write it all out and document what I know… and what I don't.
And, I'm ashamed to say, that's not all in this case.
You see, the information about the other bookend — the date of her death — I'd have thought that at least would have been right. I mean, I was sent a link to Abbie's obituary by my cousin-and-research-co-conspirator in 2014, and — after all — how hard is it to enter a proper citation for one single newspaper article?
Apparently, a lot harder than it should have been.
The obituary is recorded in the source notes of my database as: "Aberdeen (SD) Daily Times, 19 Jan 1965, p. 2, col. 2."
Notice that I didn't bother, at the time, recording that my cousin found the obituary and sent me the link to it on GenealogyBank, so finding it again… well … let's just say that if it wasn't for finding the 2014 email from my cousin in my email file, I'd have never found it again.
Because, you see, there's no such newspaper as the Aberdeen (SD) Daily Times.
It actually was published in the Aberdeen (SD) American-News.
So — sigh — moral of this story #3: enter the right information when you cite your sources.
Which can all be summed up very neatly:
Do as I say.
Not as I did.
---
SOURCES