… the swiped photos are gone from PeopleLegacy
The debacle over the wholesale swiping of copyrighted photographs from Find A Grave by an upstart website called PeopleLegacy has sure taken some interesting twists.
The problem began back in mid-September when — billing itself as "one of the largest online repositories for cemetery and grave records from all available historical sources" — PeopleLegacy launched into a firestorm of public criticism: clearly it had indulged itself in wholesale appropriation of user-uploaded images and information from FindAGrave.com.
Full-sized copies of images from Find A Grave appeared on the PeopleLegacy website overwritten with a watermark from PeopleLegacy. The vast majority of the images were copyrighted images, with the copyright owned by individual contributors to Find A Grave. Many others, perhaps not copyright protected, were family photographs that had been uploaded to the FindAGrave site by individuals as well.1
The copyright owners and uploaders were Not Amused. Neither was Ancestry, which now owns the Find A Grave website. The company said at the time: "Ancestry recently learned about PeopleLegacy.com, which appears to improperly feature user-submitted copyrighted material that was sourced on Ancestry's FindAGrave website. We take this issue seriously and will take the necessary action." The same statement appeared in the News and Announcements section of the FindAGrave.com website with a note, "When more information becomes available, we will post it here on the FindAGrave News blog."2
Those full-sized images had been removed by the end of September, but smaller versions of the images still appeared, still with the watermark.
As of yesterday, when The Legal Genealogist checked the PeopleLegacy website, the full-sized photos were still gone, but the smaller images were still there — and the website had conceded that the photographs it swiped were copyrighted by the photographers. Case in point: my own photograph, taken at the request of a family member, of the tombstone of Amy Schoolcraft at the Knotts Cemetery in Calhoun County, West Virginia, appeared with a note: "Copyright by JG Russell."
And… sigh … another watermark for something called Wiki Heritage.
Which, as far as anyone can determine, doesn't exist except in the mind of whoever (or whatever) is behind the PeopleLegacy website.
Ancestry was still Not Amused. Its statement when I reached out yesterday: "PeopleLegacy.com appears to display material that was originally submitted by users to our FindAGrave.com website. We neither shared nor approved the display of any content on the third-party site. We take this issue seriously and have requested that PeopleLegacy immediately remove any and all FindAGrave.com content from its site, and cease and desist from any similar activities in the future."3
And at 10 a.m. EDT, when I sat down to finish this blog post and went over to PeopleLegacy to check one more time…
The photos are gone.
All of them.
There's no photo on the initial search results page for Amy Schoolcraft:
There's no photo on the individual search page for her burial: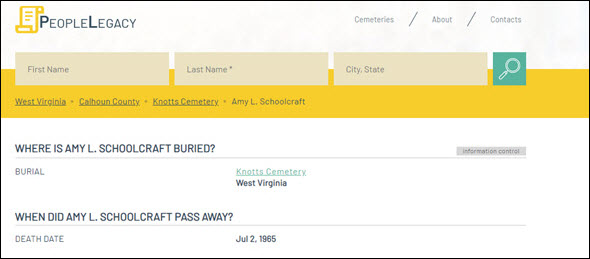 And note that all of the entries have a little "Information Control" button on the right hand side. If you click on that:
You can have the information removed if it's the memorial data you wrote for Find A Grave and you want it off the PeopleLegacy website. And it appears from a spot check that any biographical narratives "borrowed" from Find A Grave have also been removed, but there's no way to see quickly whether that's universally true for all memorials.
Oh, and when I accessed Find A Grave this morning, it asked me to prove I wasn't a robot — the kind of program that can be used to swipe content.
Moving forward…
---
SOURCES