… and in the livestream
At the annual conference of the Federation of Genealogical Societies (FGS) in Fort Wayne five years ago, there were four — count 'em, four — presentations focusing on DNA.
Bob McLaren spoke about the basic of DNA testing and again about what to do after the results came in. Debbie Parker Wayne talked about racing all lines of descent. Kenny Freestone of Ancestry reviewed his company's autosomal product.
And that was it.
DNA was hardly a mainstream part of that conference.
What a difference five years makes…
The FGS conference that gets underway in Fort Wayne this week begins with DNA — the Thursday keynote weaving the DNA test results of four Fort Wayne area broadcasters into the stories of their ancestors.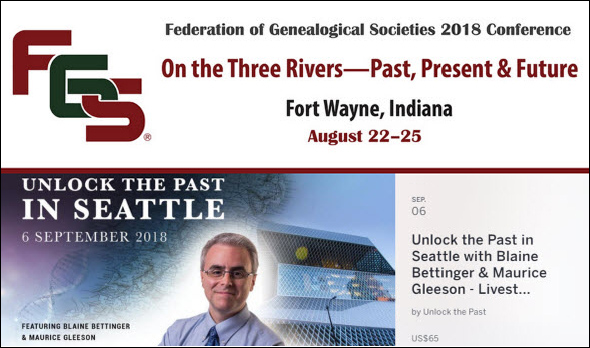 Blaine Bettinger and The Legal Genealogist are going to have a ton of fun Breaking Down the Broadcasters: Discovering the DNA of Fort Wayne's Famous, with Justin Prince (FOX), Linda Jackson (NBC), Terra Brantley (CBS) and Alexis Shear (ABC). We get to talk about ethnicity estimates, what the tests show about the ancestral origins of these folks — and then share with them the fascinating stories of their families using exactly the kinds of tools we're all going to be able to learn more about during the conference.
When the regular sessions get underway after that keynote, there's an entire track on DNA: four presentations on Thursday; four on Friday; four on Saturday.
And if that's not enough to convince you that DNA is utterly and totally mainstream these days, the Friday night social is called Speed DNAting: A Hip Haplogroup Happening, and the description reads: "Come learn something about your haplogroup through networking, DNA themed cocktails or mocktails, trivia, and other contests. There will be light refreshments and lots of information during this hip happening."
Still not convinced?
How about DNA in the livestream?
My friends at Unlock the Past are doing a genealogy cruise to Alaska after the FGS conference — no, darn it, I can't go — and they're doing a one-day conference on land just before the cruise, on Thursday, September 6th, at the Seattle Public Library.
One entire track — five presentations by Blaine Bettinger and Maurice Gleeson — will focus on DNA.
And the whole thing is being livestreamed.
For a whopping $65, you can get access to both the DNA track and a research track with Irish topics, one of my favorite talks by Cyndi Ingle on The Hidden Web: Digging Deeper, and even presentation by Canadian geologist Wayne Shepheard on Genealogy and the Little Ice Age that ought to be really cool. (Sorry, I couldn't resist the pun.)
That's 10 presentations in all. The full program is here, and you can register here. It's only $20 as an add-on if you're attending in person at the Seattle Public Library, so you can hear the sessions at your convenience that you couldn't hear live.
DNA in the mainstream.
DNA in the livestream.
It's a great time to be a genealogist…