New consolidated rules
So…. everybody logged in to Ancestry yesterday, right?
Or AncestryDNA.
Or Newspapers.com.
Or Fold3.com.
And there was that notice right up at the top: "Note: Your privacy is our priority. See how we have updated our Privacy Statement and Terms & Conditions. You can learn more here."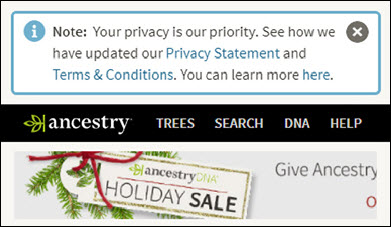 And you maybe got an email from Ancestry telling you about the updated documents… and read the blog post about the changes, right?1
And, of course, like The Legal Genealogist, you clicked on each of those links and read each of those documents and even the FAQs at the new privacy landing page, right?
Right?
Sigh…
I didn't think so.
You really should, y'know: the privacy statement and terms and conditions for all of the flagship Ancestry websites — Ancestry, AncestryDNA, Newspapers.com and Fold3.com — all changed yesterday to a single unified set of documents and it's what's going to govern our use of all of these key genealogical resources.
It covers things like what information gets collected from us, what's done with it, what our rights are, what our obligations as Ancestry customers are… the whole shooting match.
So take a few minutes, sit down with a cup of coffee or hot chocolate and read these two key documents. They're not all that long, and they're basically in English, with only a little jargon and legalese thrown in. The Privacy Statement is here;2 the Terms & Conditions here.3
They're essentially all the same, no matter what part of the world you hail from. There are essentially no regional differences. Well, okay, the version of the Terms & Conditions for the United Kingdom and Australia does spell "analyze" as "analyse" and "authorization" as "authorisation," but that's it in terms of differences. The Privacy Statements are identical letter for letter.
So around the globe, and across all the key Ancestry properties, these are the rules.
And they're basically the same things they've always said, in plainer language, and in one place.
The Terms & Conditions begin with a commitment to genetic privacy: "In particular, you should be aware that we do not share your Genetic Information (as defined in the Privacy Statement) with employers, insurance providers, or third-party marketers without your consent, and will not share your Genetic Information with law enforcement unless compelled by valid legal process as described in our Privacy Statement. Any sharing of Genetic Information for scientific research is governed by our Informed Consent to Research, which only applies if you expressly agree to participate."
The document then goes through a summary:
• You always maintain ownership of your data, but we need the ability to use your data for the purposes set out in our Privacy Statement and these Terms, and, if you agree to it, in our Informed Consent to Research.

• You may discover unanticipated facts about yourself or your family when using our Services that you may not have the ability to change (e.g. you may discover an unknown genetic sibling or parent, surprising facts about your ethnicity, or unexpected information in public records).

• As we are constantly striving to improve the Services we provide you, your data may be used to enhance our existing user experience or to develop new products and services. Unless expressly stated otherwise, each new feature that we add to the Services will also be subject to these Terms.

• You may at any time request that we delete your data and account, as described in our Privacy Statement.4
Key elements of the Terms & Conditions:
• The usual "behave yourself on the internet" rules apply: everybody has to stay legal, not break the security rules, and play nice with others.
• For documents and other records, users must "keep all copyright and other proprietary notices on any Ancestry Content you download or print" and are not allowed to "distribute, republish, or sell significant portions of any Ancestry Content." However, as to items in the public domain, we're allowed to use a small portion — for more, we have to get Ancestry's written permission.
• For anything we upload, we "represent and warrant" that we "have all the necessary rights to upload or post … User Provided Content" and "Ancestry has no responsibility or liability related to User Provided Content." And we expressly can't sue Ancestry for any fall-out from anything we upload.
• For DNA, you have to be 18 to buy a kit, and "To protect your privacy when you share your DNA with us, each adult who submits a saliva sample for a DNA test must create their own account. In addition, depending on the country where the person providing the saliva sample is located, such person may also be required to explicitly consent to the processing of sensitive personal information when they activate their DNA kit." And, of course, "Any saliva sample you provide is either your own or the saliva of a person for whom you are a parent or legal guardian."
• All services are on an as-is basis and Ancestry says it limits its liability "to the fullest extent allowed by law. We will not be liable for any unintentional damage, any actual, incidental, or consequential damage, or for any loss or claim of any kind." If it gets sued because of something we do, we're on the hook for our own costs and for Ancestry's.
• If there's a dispute, the law of Utah applies. Mandatory binding arbitration is still the rule for folks in the U.S., meaning you give up your right to sue in all but a handful of cases, and you completely give up your right to join with others to complain (what's called a class action). In Europe, you have to take legal action in Ireland under Irish law except that "If you are a European Union consumer you will benefit from any mandatory provisions of the law of the country in which you are resident."
Key elements of the Privacy Statement mirror the Terms & Conditions but with an emphasis on data collection and sharing. The summary there:
Ancestry follows three guiding principles when it comes to your privacy:

Transparency. We work hard to be transparent about what Personal Information we collect and process.
Simplicity. We strive to use easy-to-understand language to describe our privacy practices to help you make informed choices.
Control. We give you control over the Personal Information you provide to us, including your DNA Data, and how it is used, shared, and retained.

You always maintain ownership of your DNA and DNA Data—you can manage and delete it as described in this Statement.
You may discover unanticipated facts about yourself or your family when using our services. While we strive to give you control as you use the Services, once discoveries are made, we can't undo it.5
And it then goes through the usual elements as to information Ancestry collects from us, either when we sign up or submit a DNA test, and when we use various services (including Facebook to access Ancestry information); how that information is used; when and under what circumstances it's shared; data security; and the like.
None of this is new. According to the Ancestry blog post: "these simplified documents do not introduce any new products or data handling practices that are not currently in place; in other words, the simplified and consolidated documents contain no material changes from the prior versions."6 What's new is that Ancestry is "bringing together what were previously separate Terms and Privacy Statements for Ancestry.com and AncestryDNA into single documents that cover both our family history and DNA products."7
But you knew that already, because you clicked through and read the documents… right?
Right.
---
SOURCES