Those disorderly puppets
After yesterday's post about disorderly persons in early Michigan laws, reader Ann Curtis Collins was puzzled.
She wrote: "I would like to know the history of why these people were listed under this topic: 'who exhibit or perform for profit any puppet-show'."
Great question, even if The Legal Genealogist can't give as detailed an answer as any of us might like.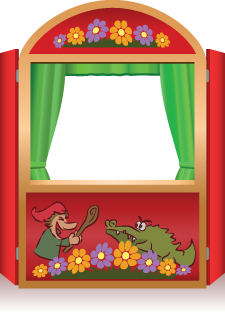 First off, it's clear that Michigan was hardly alone in regarding puppet shows as potentially disruptive and disorderly.1 Laws were on the books in many parts of the United States, and not just in Michigan.
In Connecticut, for example, under the laws of 1821, puppet shows were treated the same as exhibitions by any mountebank, tumbler, or rope-dancer: any exhibit by them could result in a fine of $200 for every offence.2
In 1829 New York, the standard language in any statute allowing for the creation of a new town gave the town council the power to pass ordinances to "regulate … any puppet show, wire dance, circus riding or other idle acts or feats which common showmen, mountebanks, circus riders or jugglers usually practice or perform…"3
In 1881 Nebraska, there was a license that had to be obtained before exhibiting "any puppet-show, wire-dancing, or tumbling, juggling, or sleight of hand" — with a fine of $10 for every offense.4
And puppets were regulated elsewhere — and for other reasons — too. Around the same time, in the middle to the end of the 19th century, in Italy, no female puppet could be shown on stage without a pair of light blue silk drawers.5
And, of course, puppet shows had been regulated earlier because they might even incite people against the government and rile folks up in general. In both England and France, there was great fear of the power of the puppet show to incite the population — and laws and regulations to keep things under control.6
Now… putting all this together, what do we have? We have what might pass as prudery in Italy, worries about anti-government subversion in England and France, and what was clearly a concern about traveling players in the United States. People who went from town to town, weren't regular residents, and might pose a risk to the public order.
Nobody ever comes right out and says it, but we can read between the lines: everybody thought these were folks who might fleece the locals if they didn't rile them up against the powers that be — or both!
Puppets, history, and the law.
Who'd-a-thunk it?
---
SOURCES