Gaining a War of 1812 ancestor
Every so often, you just have to check the records again.
A name you thought you searched thoroughly once… well, you just need to do it again.
And again.
And again.
In part, it's because there are more and more records coming online.
In part, it's because each and every one of us is learning every day, and in learning we become better, more disciplined, more thorough researchers.
And maybe, just maybe, something that we didn't see the first time, didn't find the first time, wasn't online the first time … maybe it's there now.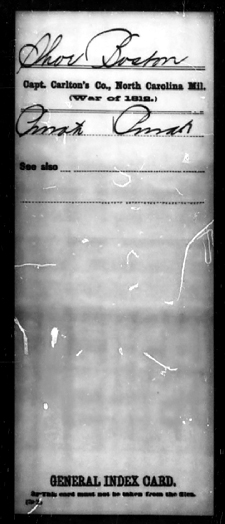 Case in point: The Legal Genealogist's fourth great grandfather, Boston Shew, born around 1790 in North Carolina.1 He took out a marriage bond in Wilkes County in October 1816 to marry Elizabeth Brewer;2 later census records support the conclusion he and Elizabeth actually did marry.3
By 1820, Boston had two children under age 10 in his household — one boy and one girl.4 By 1830, there were two boys and four girls.5 In 1840, there were three boys and five girls.6
By 1850, Boston had moved his family to Cherokee County, Alabama. There, the census and other evidence lets us put names on the sons who had been so steadily recorded as tick marks in earlier years: Simon, the first-born, born around 1819 in North Carolina;7 Daniel, the second son and my third great grandfather, born around 1826 in North Carolina.8
But something happened to their mother, Boston's wife Elizabeth, between 1850 and 1860. We don't know what, but by 1860 Boston was struggling to try to establish and support a very young second family in Arkansas.9 And we're not sure what happened to Boston and his second wife; we only know that his sons by that marriage were back in Cherokee County, Alabama in 187010 — and that there are no later records of Boston or his second wife.
Great information… a lot of detail… and yet there was something that I missed the first or second or fifth time around.
Something I picked up in yet another sweep of the records yesterday.
Something that, to me, is monumental.
As you can see from the carded record here, Boston served in the War of 1812.11
He and his brother Simon — his bondsman on his marriage bond to Elizabeth — both served in Captain Ambrose Carlton's company of North Carolina militia. And he and Simon both got — and sold their rights to — warrants for bounty land. Boston assigned his right to 160 acres to Miner W. Gibson,12 and Simon assigned his right to 40 acres to Sophia C. Jones13 and his right to 120 acres to Edward A. Temple who, in turn assigned it to Robert Coles.14
All of the patents say the same thing that this service index carded record shows: they served in Captain Ambrose Carlton's company of North Carolina militia in the War of 1812.
Now… that's pretty much all that's available online right now.
But it's sure more than used to be available online … and it's pointing right at some potentially terrific records.
While Boston didn't live long enough to qualify for a service pension,15 there should be a bounty land file at the National Archives, a compiled military service record, perhaps a unit history.
Yes, it pays to check the records again, every so often.
And again…
And again…
And again…
---
SOURCES