Behind the tax record
So… yesterday The Legal Genealogist wanted to make a point about the kinds of records that can be used to help reconstruct a family's history.
Because I'm headed off this weekend to the spring seminar of the Sonoma County Genealogical Society, I chose — entirely at random — the collateral inheritance tax record of one Teresa Wensinger, who had property and family in San Francisco and whose estate was probated in Sonoma County in the early 1900s.
Nope, I'm not descended from Teresa. I'd never heard of her before yesterday.
But my friend Linda Harms Okazaki pointed out how neat it was to have this evidence of a life in the San Francisco area before the 1906 earthquake… and you know what I had to do, right?
I mean… seriously… we're genealogists. We're the family story tellers — and story keepers.
Which means, of course, I had to find out more about her…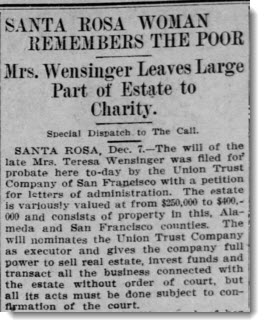 And what a story there is here.
It turns out her husband Francis was an early settler in California — "a pioneer of 1849 and a man who has been identified with the commercial progress of (San Francisco) from its very infancy."1 Francis was a banker, a real estate investor and "one of the leading Catholics of the city … very devout and charitable, and the different Catholic churches of this city are indebted to him for many generous gifts."2
Pay attention to that last part. It's going to come up again.
Francis died in 1900 and, after confirming gifts he'd already made, he left everything to his widow, Teresa.3
Teresa, now a childless widow, lived nearly six years longer than her husband, dying in December 1905. Her death notice appeared in the San Francisco Chronicle on December 4, 1905:
WENSINGER — In Freestone, December 1, Teresa, relict of Francis Wensinger, a native of Ireland.

Funeral will take place Monday, December 4, at 10 o;clock, from St. Mary's Cathedral, where a requiem high mass will be celebrated for the repose of her soul. Interment, Holy Cross Cemetery.4
On December 8th, the San Francisco Call reported on the handwritten will of Teresa Wensinger, written in 1901. It said that the "Santa Rosa Woman Remembers the Poor; Mrs. Wensinger Leaves Large Part of Estate to Charity."5 Individual legacies were made to family members — nieces, nephews and the like — and to various institutions and to a nun in Ireland, with the "residue of the estate … left to the Roman Catholic Archbishop of San Francisco."6
Now the share of one particular nephew, Louis O'Farrell, was "left to his wife … and children, for whom it is declared O'Farrell has not provided."7
And you know what happened next, right?
I mean, we could practically have written the rest of the story without even seeing the records.
Louis didn't much like the fact that he wasn't getting any cash himself at all. And he was particularly put out that even considering what was going to his wife and kids, their part of the estate was not nearly as much as the Catholic Church was getting.
And he sued to set aside the will on the grounds of undue influence. Specifically, he accused the Archbishop of San Francisco of personally interfering and inducing his aunt to cut him out of the will and to leave so much of her property to the church.8
The case actually went to trial in April 1908, with testimony starting on April 24 and continuing well into May. The Archbishop of San Francisco himself, Patrick W. Riordan, took the stand on May 20 to deny allegations of unduly influencing the widow.9
The newspaper accounts aren't entirely clear as to what happened between May and June 1908, but they are clear as to how the case concluded: "Compromise in Wensinger Case: Contestant Accepts Cash Settlement for Claims on Estate." According to the San Francisco Chronicle, O'Farrell was to receive $9,000 in cash in settlement of his claims.10
The case disappears from the newspapers with the announcement of the settlement… well, at least until late in 1910, when the Church ended up filing a suit to quiet the title to some land in San Francisco that O'Farrell was still claiming an interest in…11
You have to love a good family fight. From a genealogical perspective, there's nothing like it to produce records…
---
SOURCES
Image: "Santa Rosa Woman Remembers the Poor," San Francisco Call, 8 Dec 1905, p. 14, col. 6; digital images, Newspapers.com (http://www.newspapers.com : accessed 12 Apr 2016).