Arizona Memory Project
So this past weekend The Legal Genealogist had the chance to spend a whole day, and then some, reviewing the law and genealogy with the Family History Society of Arizona.
It was a blast. And it was warm and sunny, something that can't be said about the east coast in March. Getting home last night to light snowfall after 80+-degree temperatures in Phoenix was a shock to the system.
Be that as it may, one of the best parts about talking about law and genealogy in Arizona was being able to admire the way that Arizona researchers can get quick and easy access to the very earliest of Arizona's laws.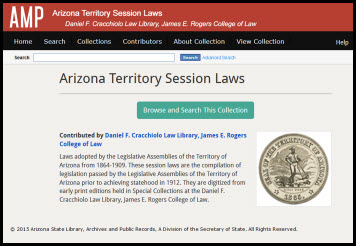 So if you have Arizona research you need to do and want to make sure you understand the impact of an early law on a record you're working with, here's what you need to know:
The Daniel F. Cracchiolo Law Library, James E. Rogers College of Law, University of Arizona, has digitized — and the Arizona Memory Project offers an entry portal to — the entire set of the Sessions Laws of Arizona Territory, from 1864-1909. And the law school also has digitized the Compiled Laws of Arizona Territory and the Revised Statutes of Arizona Territory, issued in various years from 1864 to 1901.
The session laws, of course, are the volumes of laws passed by the Arizona Territorial Legislature and published at the conclusion of each legislative session. Individual volumes in this collection include every legislative session from the very first session in 1864 to the very last session of the territorial legislature in 1909. (Arizona became a state in 1912.1)
The entry portal to this collection at the Arizona Memory Project is here, and you can browse through each volume here.
And what kinds of things can you find in the session laws? Everything from the law creating the first seal of the territory2 to a private law giving Mary Catharine Mounce a divorce.3
Compiled or revised statutes are the codifications of the law: the collection and combination of session laws into topical order rather than purely chronological order. They were published four times, as the Compiled Laws of the Territory of Arizona, 1864-1871; the Compiled Laws of the Territory of Arizona, 1864-1877; the Revised Statutes of Arizona Territory, 1887; and the Revised Statutes of Arizona Territory, 1901.
And if that's not good enough, some — but not all — of the statehood session laws have also been digitized, by the Arizona State Library, and are accessible through the Arziona Memory Project as well, with the entry portal here. Among the volumes that are available are the 1925 session, and then most (but not all) sessions from the 17th session in 1945 through the 42nd session in 1996.
Not quite one-stop shopping for the entire run, but not bad at all if you need a quick route in to early Arizona law.
---
SOURCES