…aren't always free
Genealogists love the word free.
Records that are free.
Websites that are free.
Anything that's free.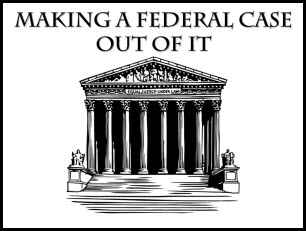 And sometimes we're a little annoyed when some of the things we want aren't free.
But — alas — the bills still have to be paid, and until money trees start growing in all of our yards, it's going to remain a simple fact of life that… the best things in life aren't always free.
Today is a case in point. Because The Legal Genealogist is doing a webinar this afternoon as part of Legacy Family Tree Webinars … a really cool webinar on federal court records … and it's not free.
It is, instead, open only to those who are subscribers to Legacy Family Tree Webinars.
Gasp!
A Legacy Family Tree webinar that isn't free!?!?
Yeah, actually, even Legacy Family Tree has to pay the bills, and the fact is that subscribers keep the webinar series afloat. So it's only fair that subscribers get some benefits that nobody else can get. Benefits like the handouts that accompany each of the webinars (generally a minimum of four pages of additional materials, and often eight or more pages of references and sources you can't get anywhere else). And benefits like members-only webinars (like the Making A Federal Case Out Of It webinar this afternoon).
So… how do you get in on these goodies?
Become a subscriber, of course.
For an annual fee of $49.95, you get "1 year unlimited access to our recorded webinars at www.FamilyTreeWebinars.com. Also includes access to the instructors' handouts, chat logs from live webinars, and 1 year of 5% off anything in the store (must be logged in at checkout), and a chance for a bonus subscribers-only door prize during each live webinar."
There's also a monthly subscription at $9.95 that gets you the same access for one month.
The subscription page is here and you can see all the webinars available in the webinar archive here.
Right now, there are 245 archived webinars — 361 hours of instruction — and 1069 pages of instructor handouts, and every bit of it is available to subscribers. That's — oh — about 20 cents a webinar at the annual subscription rate.
And for subscribers, hope to see you this afternoon. 2 p.m. Eastern, 1 p.m. Central, noon Mountain, and 11 a.m. Pacific.