For the ease of finding my ancestors' land
Those who, like The Legal Genealogist, have ancestors from what are called the state land states know the pain of trying to identify a land parcel that is described as beginning at an oak, running to a maple, thence to a rock in the stream and so forth.
Finding a piece of property described under the metes and bounds survey system is, to put it mildly, a challenge.1
So it is a distinct pleasure to be in Winston County Mississippi, where my Gentry and Robertson ancestors lived in the 19th century, on tracts of land described in terms like "the West half of the South East quarter of Section twenty nine in Township fifteen North, of Range fourteen East, in the District of Lands subject to sale at Columbus, Mississippi."
Because it is just so easy to take that description and go directly to that parcel of land.
Or as close to it as 21st century backroads can take you, at least.
That description happens to be the exact description of 79.80 acres of land patented to my third great grandfather Elijah Gentry on 27 February 1841.2
It was a cash sale — so there aren't a lot of the kinds of documents you can get with a homestead. No proof of settlement, no affidavits, nothing like that. Just a patent and a receipt for paying for the land.
And, thrown in for good measure, the easiest way in the world to get to his land, in person, now that I'm doing a road trip in Mississippi.
Here's the way it works.
The federal Bureau of Land Management has a website for General Land Office Records where you can search by an ancestor's name for Federal land conveyance records in the Public Land States — patents, survey plats and more showing the transfer of the land from federal ownership to individual ownership.
If you navigate to the General Land Office Records, and click on the link for Land Patents, or navigate directly to the Land Patents search page, you can enter the information you have available and search across many records.
In my case, I was looking for land in a particular location. So in the location fields, I chose Mississippi and then Winston County. And I was also looking for a particular ancestor's land, so I entered his surname — Gentry — in the Names box.
I could have included more information — the land description, for example — since I already had that, but the great joy of the website is that you don't need a whole lot of information to do a thorough search.
In my example, there's only one Gentry land patent in Winston County, for my third great grandfather Elijah Gentry, and clicking on that link took me to the patent details page.
And that's where you'll find the extra little goodie section that I used yesterday.
Scroll down to the bottom. You'll see a section entitled Land Descriptions, with a map of the United States. There's an unchecked box under the word Map in the left hand column.
Go ahead and check that box.
And magic occurs.
The map zooms in to Winston County, Mississippi, and overlaid on that is the exact area of Section 29 that was patented to Elijah Gentry.
You can easily see that it's east of Louisville, the county seat of Winston County and north of Mississippi Highway 14.
Cool, huh?
It gets better.
On the left hand side of the map is a zoom bar where you can zoom the map in or out even more than it is now. Go ahead and start zooming in — keeping in mind that you may need to drag the map area itself to keep the Gentry land visible.
With just two more clicks of the zoom bar, you can begin to see local roads, and not just the state highway. You can see that the land is along Harold Ming Road, between Highway 14 and Yellow Creek Road.
With two more clicks of the zoom bar, you can see exactly where the Gentry land is today: just south of Yellow Creek Road, with the center of the tract right where Mack Eaves Road cuts east towards Obie Smith Road.
In other words… exact driving directions.
Along today's modern roads.
To this location.
Where I stood, yesterday afternoon, soaking up the feeling of standing where my ancestors did, on land that they owned, more than 170 years ago.
Not every tract in the BLM GLO database is linked to an underlying map with this degree of detail. If you try the exact same trick with the land of my other third great grandfather William M. Robertson,3 the system returns a message that "Due to data limitations, we could not map the aliquots or lots of this land description. The township and section are shown."
But when you know that the Robertson parcel is the south half of the east half of the southwest quarter of that section on the map, it doesn't take much to place it pretty close to where Hull Road branches off from Yellow Creek Road towards the north:
Here…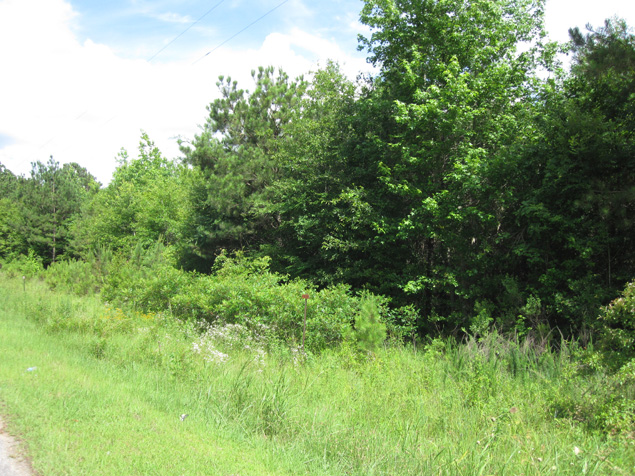 Where I stood, yesterday afternoon, soaking up the feeling of standing where my ancestors did, on land that they owned, more than 170 years ago.
Thank you, BLM…
---
SOURCES
See generally FamilySearch Research Wiki (https://www.familysearch.org/learn/wiki/), "Metes and Bounds," rev. 24 Aug 2014. ↩
Elijah Gentry (Winston County, Mississippi), land patent no. 12322, 27 February 1841; "Land Patent Search," digital images, General Land Office Records (http://www.glorecords.blm.gov/search/default.aspx : accessed 14 June 2015). ↩
William M. Robertson (Winston County, Mississippi), land patent no. 13267, 27 February 1841; "Land Patent Search," digital images, General Land Office Records (http://www.glorecords.blm.gov/search/default.aspx : accessed 14 June 2015). ↩