Putting names to faces
A little less of a mystery.
A little more of one.
Until last night they were, simply, Gretel and Adelheid.
I knew that they were sisters to my grandmother — children of Carsten H. W. Nuckel and Juliane Margarethe Smidt — but had no idea what their full names were. Or when they married.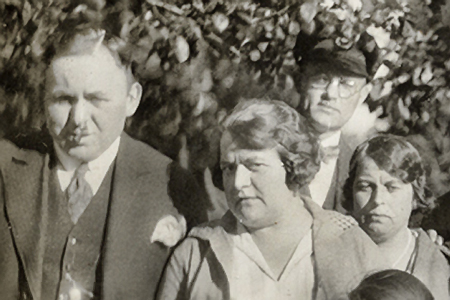 All I really had was the photograph you see here.
Adelheid, on the left, married Heinrich Thoms and had a daughter Henni; Gretel, on the right, married Amko Lauterbach and had a daughter Erna.1
Today, I know their full names. And their husbands' full names. And the years when they married. And even when one of them died.
And that is so much of a gift, in the puzzle that is my father's family.
I never met a single one of my father's relatives. He was German-born, and downright secretive about his family who, I was led to believe, had all died long before I was born.
He and his parents, my grandparents, had come to America in 1925,2 and I knew both of his parents had in fact died before I was born. His father, Hugo Ernst Geissler, died in 1945;3 his mother, Marie Margarethe (Nuckel) Geissler, died in 1947.4
I'd only ever heard of two relatives, anywhere, whether in Germany or in America, during my father's lifetime, and they were referred to only as Tante Anna (Aunt Anna) and Tante Liesl (Aunt Liesl). It turns out that Anna — Anna (Graumüller) Zons — was actually my grandfather's aunt, and Liesl — Elisabeth (Graumüller) Marks — was her niece and my grandfather's cousin.
But, I discovered, both had been alive when I was a child, and — it turned out — there had been a whole passel of relatives I'd never heard about, on both my grandfather's side and my grandmother's side.
Like, just to name two examples, Gretel and Adelheid.
But I did something earlier this year I'd been meaning to do for a long time: I joined Die Maus — die Gesellschaft für Familienforschung e. V. Bremen — the Bremen Genealogical Society.
If you have ancestors who came from the area of Bremen, Germany, this really is the society to join. It has a ton of information on its website, much of it open to access by anyone, members or not. There are the Leichenbücher der Stadtgemeinde Bremen von 1875 – 1939, for example — the funerary books of the City for the years 1875-1939, recording burials in the city's cemeteries. The Bremer Einwohnerverzeichnis von 1812 — a civil registration list of residents in 1812. And a whole lot more that anyone can access.
And then — and then — there are members'-only databases…
Members'-only databases that I finally stole some time with late last night.
Members'-only databases where I came face-to-face… well, name-to-name… with Gretel and Adelheid.
Adelheid was Gesche Adelheid Nuckel, who married Heinrich Diedrich Thoms in 1920.5
Gretel, it turns out, is the call name — the nickname — of Marie Juliane Margarethe Nuckel, who married Amko Gecke (or Geike) Lauterbach in 1917.6
Armed with those complete names, it was easy to go back to the funerary books database… and to the members'-only part that gives you access to data from 1939 to 1959.
Heinrich Thoms, I discovered, died in April 1939, at the age of 40 years, 11 months and 16 days. Born 28 April 1898 in Bremen. Died 12 April 1939. Buried 17 April 1939.7
Amko Lauterbach died in 1947, at the age of 56 years and four months. Born the 13th of September 1890 in Campen, he died 21 January 1947 and was buried — if the record is correct — 25 April 1947.8
So much for the uncles. Both gone before I was born.
But the aunts… oh, they are another story altogether.
For Adelheid… it turns out that Adelheid lived well into the 1950s. The records show she was born 28 October 1898, and died 13 February 1958, at the age of 59 years and three months. She was buried 21 February 1958.9
And there is no entry in the database — which ends in 1959 — for Gretel. The last available Bremen City Directory online shows a widow Marie Lauterbach living on Beverstedter Strasse in 1955…10
In other words… unless she moved out of Bremen at the end of her life… Gretel could still have been alive into the 1960s there in Bremen.
My father's family, as the King said in "The King and I," is "a puzzlement."
But a little less so today as to Gretel and Adelheid. Who they were. When they lived.
But a little more of one today as to them as well…
How long did they live… how did they live… what were their lives like…?
And perhaps the most perplexing part of all… My family lived in Europe for a year when I was a child. My father's job took us to The Hague, in The Netherlands. According to Google Maps, it's not even 400 kilometers — less than 250 miles — from The Hague to Bremen.
I was too young to remember… too young to know…
Did we ever visit them? Did they visit us?
And if not, why not?
"Is a puzzlement," for sure.
---
SOURCES