If you haven't yet
If you haven't already voted in the American Bar Association's 2014 Blawg 100 voting, there is still time!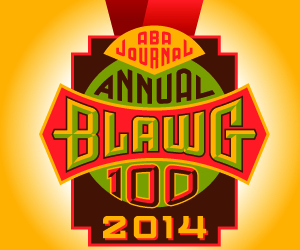 The voting ends at the close of business today, Friday, December 19th, which probably means somewhere around 5 p.m. Central time. (The ABA Journal, which is running this show, is located in Chicago.)1
Understand, please, that it is an amazing honor simply to be named as one of the ABA Journal's best 100 law-related blogs, and to be included for the second year is stunning. And, really, quite a tribute to the popularity of genealogy among folks from all walks of life — even those oddballs who, like The Legal Genealogist, have a law degree.
So I don't feel any real need to win the popular voting in the Niche category, where The Legal Genealogist is nominated. There are so many amazing blogs in that top 100 list that just being there is enough. Blogs that I read all the time, and you should too, include:
• the Law Library of Congress' In Custodia Legis (in the Legal Research/Legal Writing category).
• Defrosting Cold Cases (in the Criminal Justice category).
• Lowering the Bar (in the For Fun category).
Except… except… except that, at last report, The Legal Genealogist was locked in a ballot-box showdown with a blog about, of all things, agriculture law.
Now look.
Seriously.
I like to eat, too. And from a genealogical perspective I descend from a very long line of farmers, some of whom were pretty good at it too.2
But I do not want to lose out to a blog about agriculture law.
So… The Legal Genealogist would never, ever, ever, do anything like countenance ballot-box stuffing.3
But if you haven't voted yet…
There's still time.
Thanks.
---
NOTES
See "Contact us," ABA Journal (http://www.abajournal.com/contact/ : accessed 19 Dec 2014). ↩
Not all of them. Remind me to tell you about my grandfather's days as a farmer someday. ↩
Which is, seriously, why you have to register to vote. There were what the ABA refers to as "significant voting irregularities" in the past. "Frequently Asked Questions About the Blawg 100 and Voting," Blawg 100, ABA Journal (http://www.abajournal.com/ : accessed 14 Dec 2014). And, in context, that can only mean ballot-box stuffing. ↩