Promethease: a place to start
It is and has always been a common question among people thinking about DNA testing, and it's one that's perplexing reader Madge Gunia.
"Where should I go for info on health and family members?" she asks. "I am an adoptee who would like to know who I am, but also, I would like to know genetic health issues."
And, now that 23andMe has its health-related reporting on hiatus, courtesy of the FDA's 2013 cease and desist order,1 it's one that doesn't have an easy answer.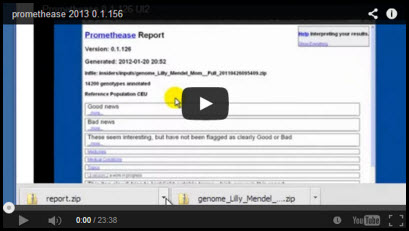 It's not impossible.
But it sure is hard.
Because one option we do have now to get some basic health information without spending thousands of dollars for a medical geneticist is to use a web-based program called Promethease.
And that takes some work, both in terms of just getting everything done and — more importantly — in terms of understanding the results.
What Promethease does is compare your raw autosomal DNA test data — and you can use your raw data from any of the three major test companies (Family Tree DNA, 23andMe and AncestryDNA) — to information collected from peer-reviewed scientific journals at SNPedia to "create a personal report linking your DNA variations to the information published about them." It'll cost you a whopping $5.00 to get a report.
Among the specific DNA markers (called SNPs, or single nucleotide polymorphisms2) it looks at are ones now believed to raise the risk of Alzheimer's disease, influence baldness, determine sensitivity to anesthetics, trigger obesity and type-2 diabetes, impact the risk of coronary heart disease, or result in lactose intolerance.
You'll get the most complete results if you use test data from 23andMe, because the computer chip used by 23andMe is optimized to report on health-related matters. You'll get many fewer results using data from Family Tree DNA or AncestryDNA where SNPs known to be medically significant are not included.
You will need to download your raw data from your testing company and then upload it to Promethease. Once it's uploaded, you'll be asked to pay for the report (you can pay by credit card or by Amazon Payments) and you'll then get a status report telling you how long you might have to wait.
My status report said it would take 20 minutes total, including wait time. In fact, it took about 11 minutes, three minutes in a wait queue and then eight minutes to run the report on my 23andMe raw data.
And that's where I hit the wall.
At 23andMe, where I was tested before the FDA ordered it to stop providing health-related information, I get a nice neat pretty chart telling me where I am at increased risk (coronary heart disease, type 2 diabetes, psoriasis, and breast cancer at the top of the list) and where I am at decreased risk (gout, Alzheimer's disease and restless legs syndrome at the top of that list).
At Promethease, the results aren't nearly so simple to understand. I have a whole slew of results, starting with a SNP that provides "an apparent resistance to several diseases such as invasive pneumococcal disease, bacteremia, malaria, and tuberculosis" on the good side, followed by one that poses "an increased breast cancer, type-2 diabetes, and aggressive prostate cancer risk" on the bad side.
Those are the results that come up first when I clicked on the report link that appeared when the testing was finished, but I have a ton of options to choose from — do I want to look at SNPs or Genosets? Do I want to see results that are good or the ones that are bad? Do I want to see a graph? A table?
It's almost overwhelming. So if you decide to go this route, using all the help that's available is the only way to go.
Start with watching the video linked on the opening page (you can find it here on YouTube). It will walk you through the process of running the report and then reading it so it makes sense. Read up on Promethease, including:
• The help page on how to read a Promethease report.
• "You Can Transform Your Genetic Ancestry Data Into Health Info, But Your Results May Vary," by Dr. Barry Starr of Stanford University at KQED Science.3
• "Promethease – Genetic Health Information Alternative," by Roberta Estes of DNAeXplained.4
• "My 23andMe Results: Getting a (Free) Second Opinion," by cdwScience of the My Biomedical Informatics Blog.5
And you might want to join the Promethease Users Group on Facebook.
And understand that before you do anything else, you're going to have to sign off on a set of disclaimers:
Before you may use Promethease to retrieve information about the human genome, you must read and agree to the following statements. Please read each statement and check the box next to each one and then click 'I Agree'.

• I understand that the information provided in my Promethease report is based on SNPedia.com and that my report is for educational and research purposes only.

• I realize that most published reports about DNA variations explain only a small part of the heritability of a trait, and they also don't take into account how different variants might interact. In addition, published reports typically ignore environmental, dietary, microbial, medical history and lifestyle factors, any or all of which may well affect my true risk for any trait or disease.

• I am aware that I am strongly encouraged to discuss my Promethease report with a doctor, genetic counselor or other health-care provider prior to making any medical or reproductive decisions. I also acknowledge that I am advised to confirm any significant finding discovered in part through the use of Promethease by an independent, clinically validated test for use in connection with the medical trait in question.

• I have read and understand the Privacy Policy and the Legal Terms and Conditions of this website. I agree to these conditions.6
The privacy policy, basically, is that your raw data is deleted after 24 hours and your report after 45 days. The terms and conditions link takes you to the page for the SNPedia wiki, and has a lot of language that applies to the wiki, not to your Promethease report. But the bottom line:
Visitor will assume all risk for using SNPedia and Promethease, including but not limited to, unsupported or unreplicated research or medical data and information, the possibility of reading vulgar or adult material (unlikely), the possibility of being harassed by other visitors (unlikely), the possibility of downloading a computer virus (unlikely), and/or any other foreseen or unforeseen possibility.7
In other words, no promises here… but then there aren't any at 23andMe either… and hey… it's only $5.00. And it's a place to start.
---
SOURCES