The gift of Carol Highsmith
It isn't possible to overstate what genealogists — and Americans — owe to Carol Highsmith.
She hasn't, to The Legal Genealogist's knowledge, indexed a single census record. She hasn't transcribed a single court record. She hasn't directly connected one parent with one child.
What she's doing is connecting us all with our roots.
In an amazing, durable, digital way.
Because Carol Highsmith is a photographer.
A photographer committed, in the words of one official of the Library of Congress, to "creating a permanent record of the country and its people for the common good."1
Born Carol McKinney in 1946 in what was then Leaksville and is now Eden, Rockingham County, North Carolina,2 she began working as a professional photographer in the 1980s after a career on the business side of broadcast journalism.
One of her first projects was photographing the closed, crumbling Willard Hotel in Washington, D.C. for the developer who would reconstruct and rebuild that historic hotel. Then the Sears House, where Matthew Brady had had his Civil War-era studios. Then a book documenting the Pennsylvania Avenue Development Commission's redevelopment of that area.3
And in 1992, in the first step towards creating this permanent record of the nation and its people, she donated 500 of her photographs to the Library of Congress.
Free.
And not just free of cost.
Copyright-free.
Meaning that they are free for us to use. To incorporate into our own work. To help illustrate the places that have been important to our own families.
Calling it "A Photographic Gift to the Nation," the Library of Congress explains: "Every photograph that Highsmith captures will be given to the Library in her lifetime."4
And what a gift.
The collection appears at the Library of Congress website, and is entitled the Carol M. Highsmith Archive. Its description:
The online presentation of the Carol M. Highsmith Archive features photographs of landmark buildings and architectural renovation projects in Washington, D.C., and throughout the United States. The first 23 groups of photographs contain more than 2,500 images and date from 1980 to 2005, with many views in color as well as black-and-white. Extensive coverage of the Library of Congress Jefferson Building was added in 2007. The archive is expected to grow to more than 100,000 photographs covering all of the United States.

Highsmith, a distinguished and richly-published American photographer, has donated her work to the Library of Congress since 1992. Starting in 2002, Highsmith provided scans or photographs she shot digitally with new donations to allow rapid online access throughout the world. Her generosity in dedicating the rights to the American people for copyright free access also makes this Archive a very special visual resource.5
Search that catalog for courthouses, and you'll find no fewer than 1544 results ranging from the Cupola of the Pioneer Courthouse, a federal courthouse in Portland, Oregon, to the Exterior of The L. Richardson Preyer Federal Building and Court House in Greensboro, North Carolina.
Have kin from Monroe County, Alabama? How about being able to use this: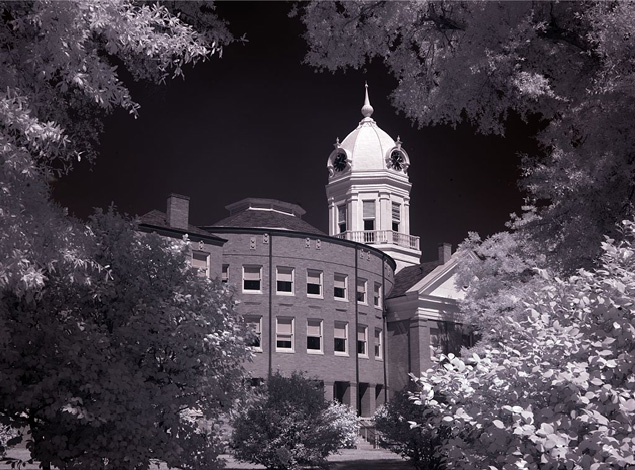 Carol M. Highsmith, "View of the historic Monroe County Courthouse, Monroeville, Alabama," 2010.6
If your folks came from Pitkin County, Colorado, you can use this one instead:
Carol M. Highsmith, "Pitkin County Courthouse, Aspen, Colorado," betw. 1980-2006.7
And these are just two samples.
Poke around in that archive long enough and you're just about guaranteed to find something you can use — something meaningful to your family and where your people are from.
Highsmith herself says: "I'm very passionate about documenting this moment in time in America and showcasing it to the world. Through the Library of Congress, my hope is that this work will remain a part of our visual heritage for hundreds of years to come."8
Thank you, Ms. Highsmith. Thank you.
---
SOURCES