Next in an occasional series on copyright
We have all been there, done that, those of us who grew up in the United States.
On a day appointed, with black eyes, or braces, or missing front teeth, or hair that won't behave, or the shirt our mothers detested, or an attitude that couldn't be repressed, we have sat there on those chairs.
Glaring, staring, sometimes even smiling.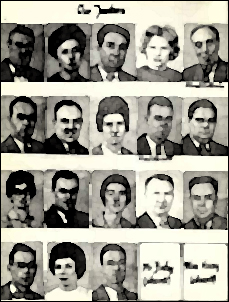 And had our pictures taken for the yearbook.
Only to find, all these years later, that somebody wants to digitize those yearbooks and put them on the internet.
Reader Gary Matz recognizes the genealogical value of yearbooks: any time you nail somebody's feet to the floor at a particular time and place, it's a good thing. And yearbooks often offer details about the person's activities and interests that can't be found anywhere else.
But when the genealogical library he works with is asked to copy a yearbook from a school or a college, he worries about copyright.
He wonders first if it's an issue at all. "Since the public schools and colleges are taxpayer supported, can they have copyright or license rights on something they publish?" he asks. "Would private schools and colleges have rights?"
And if it is an issue, what does the library need to know?
As always, The Legal Genealogist offers kudos to Gary for realizing there could be copyright issues here. It's an issue all too often overlooked. And the fact is, he's right to be concerned.
First, let's deal with the question of whether schools can have a copyright.
Simple one word answer: yes.
Doesn't matter if they're public or private, doesn't matter if they get (or got) tax dollars. There's no provision in the copyright law that says you do or don't get copyright based on your status as a public entity.
The only provision anywhere in the law that carves out a whole category is in §105 of the copyright statute: "Copyright protection under this title is not available for any work of the United States Government, but the United States Government is not precluded from receiving and holding copyrights transferred to it by assignment, bequest, or otherwise."1
Under that section, any work created by an employee of the United States Government as part of his or her official duties for the government isn't copyrighted. Note that doesn't apply to state governments or county governments or — ahem — local school boards or college alumni associations.
So we have to start with the notion that yearbooks are — or were — copyrighted. And that means finding out, first and foremost, if they're still copyrighted today.
And that's not always so easy. Copyright law has changed from time to time and there are different rules that apply depending on when the yearbook was published. Let's take a look at the key categories that are likely to apply to yearbooks published far enough back to have genealogical value:2
| | | |
| --- | --- | --- |
| Publication Date | Conditions | Copyright Term |
| Before 1923 | None | In the public domain |
| 1923 – 1977 | No copyright notice. | In the public domain |
| 1923 – 1963 | There was a copyright notice but it was not renewed as required after 28 years. (Only a few publishers or authors ever renewed.) | In the public domain |
| 1923 – 1963 | There was a copyright notice and the copyright was renewed. | 95 years after publication date |
| 1964 – 1977 | There was a copyright notice. | 95 years after publication date |
And that's the easy part. It gets more complicated after 1977, with all kinds of "if this-then that" situations, until you finally get to the point where copyright notice isn't at issue any more and everything is automatically copyright protected. There's a terrific chart with just about every possible combination of "if this-then that" situations by Peter B. Hirtle of Cornell University that we should all have bookmarked by now. It's here: "Copyright Term and the Public Domain in the United States."
So when Gary asks if he should consult with the schools involved before copying a yearbook — and if we're sitting out there thinking about putting our old yearbooks on our websites — part of the answer is in when it was published and whether it had the copyright notice required at the time. If it clearly is no longer copyright-protected, if it ever was protected, then the only reason to consult is courtesy, rather than law.
But if it isn't clear that the yearbook is out of copyright, then consulting with the institution and its legal department is a really good idea. Because if it is still copyrighted, figuring out who owns the copyright may be harder than it seems.
You see, the usual rule is that the creator of a work owns the copyright.3 Easy enough: the school published it, right?
Not so fast.
There was a photographer, perhaps a photo studio, that took the individual pictures of the students, wasn't there? Unless there was a contract between the photographer or the studio and the school, making it what's called a work for hire, the copyright to those photos belongs to the photographer, not the school.4
And there were students who took some of the photos, of the student activities and clubs and sports events, weren't there? Guess what? Same problem about ownership of the copyrights to those pictures.
All the school might have, depending on its arrangements with all the contributors, is what's called a compilation copyright, and if so:
The copyright in a compilation of data extends only to the selection, coordination or arrangement of the materials or data, but not to the data itself. In the case of a collective work containing "preexisting works" — works that were previously published, previously registered, or in the public domain — the registration will only extend to the selection, coordination or arrangement of those works, not to the preexisting works themselves. If the works included in a collective work were not preexisting—not previously published, registered, or in the public domain or owned by a third part y— the registration may extend to those works in which the author of the collective work owns or has obtained all rights.5
In short, there are a lot of potential copyright problems in copying and republishing yearbooks. Consulting with a professional whenever the yearbook even possibly could still be in copyright is the only safe way to go.
We'll leave to another day the pesky issue of what happens when one of those students doesn't want that picture republished on the web…
---
SOURCES