Among Beantown's best
Enthusiastic. Challenging. Vibrant.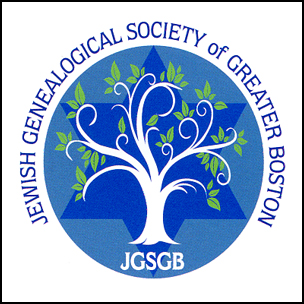 Those are just a few of the words The Legal Genealogist might use to describe the members of the Jewish Genealogical Society of Greater Boston.
They were kind enough to invite me to be the kick-off speaker for their 2013-2014 program season yesterday and all I can say is… I hope it's not the only time I'm invited.
There's nothing a speaker enjoys more than people who listen… and then ask good — and challenging — questions afterwards. And the JGSGB members did that, and more. They shared their stories before and after, they were warmly welcoming1… and they proved — in spades — that local genealogical societies can be successful and thrive.
According to its website, the JGSGB was first organized in 1982, making this its 31st year. It began as a study group to looking into Jewish family history and has grown into an active society with more than 400 members.
The society's accomplishments over those 31 years are too many to list in full. It has been the local host, twice (including this year), for the conferences of the International Association of Jewish Genealogical Societies. It has created and offers each winter a 17-hour genealogy class taught at Hebrew College in Newton Centre, Massachusetts. Its members have compiled indexes to the obituaries and wedding announcements in The Jewish Advocate, Boston's major weekly Jewish newspaper. It maintains a non-circulating collection of Jewish genealogical materials that it makes available at membership meetings and it maintains a non-circulating research collection in the Wyner Center of the American Jewish Historical Society, New England Archives, located on the fifth floor of the New England Historic Genealogical Society Library.
In other words — to put it mildly — the organization is among Beantown's best when it comes to actively serving the genealogical community.
Among the benefits of membership — only $25 a year for individuals and $35 a year for two people at one address (more info here) — are:
• Its award-winning journal, Mass-Pocha, with informative articles and news of Jewish genealogical events.
• One-on-one research & translation assistance.
• Access to the JGSGB's extensive collection of research books and materials.
• Guidance from local experts to help you with your research.
• Free admission to interesting and informative monthly meetings.
And those monthly meetings — held every month except in July and August — have some terrific speakers and content. Upcoming programs for 2013-2014 include:
• October 20: Logan Kleinwaks – Using the Genealogy Indexer to Search Historical Directories, Yizkor Books, and Other Resources
• November 3: Stanley Diamond – Polish Research Workshop
• November 17: David Laskin – From Genealogy to History: Exploring the Jewish 20th Century through One Family's Story
• December 15: Rochelle Ruthchild – Belarus: Research and Travel
• January 5: Hasia Diner: Wandering Jews: Peddlers and the Discovery of New Worlds
• January 19: Hands on Problem Solving in Jewish Genealogy
• February 9: Jessica Antoline – Immigration from Lithuania
• March 30: Bennett Greenspan – DNA and Jewish Genealogy
• May 18: Ron Arons – What's in a Name? Trouble: Which Isaac Speer is not Mine
And in addition to the one-on-one sessions, which often focus on records from countries of origin, something new for 2013-2014 will be help sessions before each meeting for folks needing assistance with U.S. records.
The Jewish Genealogical Society of Greater Boston is proof positive that genealogy is alive and well — and growing.
---
SOURCES
And a special thanks to my personal guide yesterday, Meredith Hoffman, who was not only as helpful as she could be, but she was even gracious enough to resist the opportunity to rub it in that her Red Sox are advancing… and my Yankees are not. ↩