Happy anniversary to my 4th great grandparents
They were married, the pension record says, 220 years ago yesterday.
Or maybe it was 218 years ago yesterday.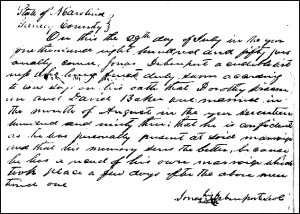 It was one or the other, you see.
But exactly when my fourth great grandparents, David Baker and Dorothy Wiseman, were married is a matter of inconsistent evidence…
And it darned near got Dorothy thrown in the hoosegow as an elderly widow looking for some back pension payments.
And, of course, it was all because of the law.
David Baker was born 3 June 1749 in the brand-new county of Culpeper, Virginia, and died 15 September 1838 in what was then Yancey County, North Carolina. Dorothy Wiseman was born 5 February 1765, likely in South Carolina, and died 23 August 1855 in Yancey County. Both of their birthdates and both of their death dates are carefully recorded in a Bible belonging to their son, Josiah Baker.1
There are a couple of things that aren't recorded in that Bible, however.
The Bible doesn't mention that David and Dorothy were first cousins, once removed. Dorothy's maternal grandfather Thomas Davenport was the older brother of David's mother, Dorothy (Davenport) Baker. The Davenports and Bakers all lived cheek by jowl in Virginia before moving together as a group to what was then Burke County, North Carolina, around 1777-78.
And the Bible doesn't record when David and Dorothy were married.
There isn't any other marriage record in existence today either. In an affidavit to the Pension Office, Dorothy said they were married by marriage bond, but the bond couldn't be found.2
And in fact the Burke County Clerk submitted an affidavit on 11 June 1850 saying after diligent search he couldn't find any copy of the marriage bond for David and Dorothy either.3
Now David was a Revolutionary War soldier, having served as a corporal in the Third Virginia Regiment from 1776 to 1778.4 Starting in 1832, David drew a pension because of that service.
Those payments stopped, of course, on David's death in 1838.5
Dorothy didn't apply for a pension on her own until 1849. In an affidavit dated 14 April 1849, she swore that a document she was submitting was "A part of the origanal Record in the pousesion of her husband at the time of his Death and now in her pousesion."6 That's this document here:
As you can see, it says David and Dorothy were married on 9 August 1795.
Based on this and other documents, Dorothy was added to the pension rolls. Then another lawyer took over her case and told her she should get back payments starting from David's death.
Only one hitch. To get benefits under the 1838 pension act, the marriage of the widow claiming the pension and the soldier whose service qualified her had to have occurred before 1 January 1794.7
So… with the aid of the new lawyer, Dorothy came right back with another affidavit in July 1850. In that one, she said she had not been aware of the marriage information being forwarded on her behalf, that it was written by William Wiseman (presumably her brother, William Jr.) but that on consideration of the birth dates of her children, the marriage year had to have been 1793.8
Now it's true that the family Bible of Josiah Baker, David's and Dorothy's son, records the first of David's and Dorothy's children as born on 6 September 1795.9 That's consistent with a marriage in 1793 and just a tad premature for a marriage in August of 1795. Not impossible of course, but…
And another pair of cousins, William and Jonas Davenport, swore they were there at the wedding, and it had to have been in 1793. Jonas, whose affidavit you see at the top, even said he was sure about it, since his own marriage was just a few days later and he had a record of that date.10 Of course, he didn't attach that record… and there's none in existence today.
The Pension Office wasn't having any of it. Instead of accepting all the various affidavits, the Office characterized the whole thing as "extraordinary" and said Dorothy basically had a choice: stick with the original record, which at least proved there was a marriage; or stick with the story that the original record was wrong, in which case forget the back payments, even her current pension should be suspended and oh… by the way… two inconsistent sworn statements amounted to perjury…11
Dorothy, then 85 years old, didn't pursue the back payments any longer.
And so it's still not entirely clear, as a result, whether we're celebrating a 218th anniversary or a 220th.
But what the heck. Happy anniversary to my fourth great grandparents anyway.
---
SOURCES