Two more resources
About mid-week during an immersive genealogy institute like the Institute for Genealogical and Historical Research (IGHR) at Samford University in Birmingham, Alabama, students' brains start to go on overload.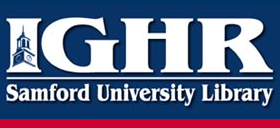 There is so much to learn and so much to share that trying to stay on top of all the information can be overwhelming. And when you're teaching on top of learning as The Legal Genealogist has been… well… at least I keep writing down notes about cool resources!
And here are two more, both neat ways to get into some of the really underused resources of genealogy — manuscripts and other unpublished materials.
The first is called Repositories of Primary Sources. It's a website at the University of Idaho compiled by Terry Abraham, Head of Special Collections and Archives at the University of Idaho Library:
This site is essentially a Cyndi's List for primary source materials. It describes itself as a "listing of over 5000 websites describing holdings of manuscripts, archives, rare books, historical photographs, and other primary sources for the research scholar."
Materials are organized geographically, and there are category links to:
• Western United States and Canada
• Eastern United States and Canada: States and Provinces A-M
• Eastern United States and Canada: States and Provinces N-Z
• Latin America and the Caribbean
• Europe A-M
• Europe N-Z
• Asia and the Pacific
• Africa and the Near East
• Additional Lists
• State, Province, Country Index
• Integrated Index/List
The second is called ArchiveGrid, and it's another way to get into and find archival records like manuscripts. It's a service of OCLC (the Online Computer Library Center):
ArchiveGrid describes itself as "a collection of nearly two million archival material descriptions," covering "collections held by thousands of libraries, museums, historical societies, and archives." It "provides access to detailed archival collection descriptions, making information available about historical documents, personal papers, family histories, and other archival materials (and) contact information for the institutions where the collections are kept."
Since so much of what we really want to learn about the families we research is hidden away in these primary sources, these are resources I can't wait to use to see what turns up…