Mastering Genealogical Proof
The last time there was this much buzz about a book that you couldn't actually hold in your hands yet, it was probably book 4 of the Harry Potter series.
And while The Legal Genealogist (and other genealogists, I'm sure) all carefully noted clues to Harry's — and Voldemort's — family trees, there probably wasn't a whole lot in that book of immediate use to a family historian.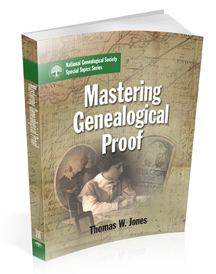 That surely won't ever be said of Mastering Genealogical Proof, the upcoming title by Thomas W. Jones, Ph.D., CG, CGL, FASG, FUGA, FNGS.1 He didn't earn all those initials after his name by anything less than stellar performance, and now he's sharing his expertise to help the rest of us begin to rise to his level.
It's published by the National Genealogical Society, which describes this new book this way:
As a unique textbook on genealogical methods and reasoning in the twentyfirst century, Mastering Genealogical Proof guides readers in acquiring genealogical skills transcending chronological, ethnic, geopolitical, and religious boundaries.

Mastering Genealogical Proof aims to help researchers, students, and new family historians reconstruct relationships and lives of people they cannot see. It presents content in digestible chunks. Each chapter concludes with problems providing practice for proficiently applying the chapter's concepts. Those problems, like examples throughout the book, use real records, real research, and real issues. Answers are at the back of the book along with a glossary of technical terms and an extensive resource list.2
In other words, this is the ultimate how-to-do-genealogy-right book.
It focuses on the Genealogical Proof Standard, the five-part system for genealogical work honed by the Board for Certification of Genealogists, and devotes a full chapter to each of its elements. Here's the way the book is organized:
Preface
Chapter 1 – Genealogy's Standard of Proof
Chapter 2 – Concepts Fundamental to the GPS
Chapter 3 – GPS Element 1: Thorough Research
Chapter 4 GPS Element 2: Source Citations
Chapter 5 GPS Element 3: Analysis and Correlation
Chapter 6 GPS Element 4: Resolving Conflicts and Assembling Evidence
Chapter 7 GPS Element 5: The Written Conclusion
Chapter 8 – Using the GPS
Chapter 9 – Conclusion
Appendix A – Pritchett Article
Appendix B – McLain Article
Glossary
Reading and Source List
Answers to exercises
Already, there are plans for two separate intensive programs for researchers to work their way cooperatively through the book's lessons.
Angela Packer McGhie, administrator of the ProGen Study Program, has announced that she will be organizing study groups around the new book.3 Watch for announcements on her Adventures in Genealogy Education blog.
And DearMYRTLE will begin an MGP Study Group – Hangouts on Air starting on June 2nd and running through the summer focusing on each of the chapters. These sessions will be recorded and uploaded to YouTube for the benefit of those who can't sit in on the live sessions.4
So how do we actually get our hands on this book?
Two ways.
First, if you're not going to be at the National Genealogical Society's conference in Las Vegas May 8-11, you can preorder it directly from NGS for shipment about 20 May 2013. The price is $30 for the general public and $25 for NGS members. (Log in as a member before ordering if you're a member.) Information on the book and a link to the preorder page are on the NGS website here.
Second, folks who are attending the NGS Conference will be able to buy it (and, if Tom's hand holds out, even get it autographed) at the conference. The member discount will be available to NGS members there as well.
It's a sure bet I'm going to be one of the first in line to get my copy.
---
SOURCES
Tom hold an academic Ph.D., has been certified by the Board for Certification of Genealogists as a Certified Genealogist and Certified Genealogical Lecturer, and is a Fellow of the American Society of Genealogists, Utah Genealogical Society and the National Genealogical Society. ↩
National Genealogical Society, "Mastering Genealogical Proof," NGS Special Publications (http://www.ngsgenealogy.org/ : accessed 17 Mar 2013). ↩
Angela Packer McGhie, "Mastering Genealogical Proof – The Newest 'Must Have' Book," Adventures in Genealogy Education, posted 16 Mar 2013 (http://genealogyeducation.blogspot.com : accessed 17 Mar 2013). ↩
Pat Richley-Erickson, "MGP Study Group – Hangouts on Air," DearMYRTLE, posted 17 Mar 2013 (http://blog.dearmyrtle.com : accessed 17 Mar 2013). ↩