More images we can use
Every time The Legal Genealogist writes about copyright restrictions, somebody out there wails: "So what can I use to illustrate my family history?" What with unpublished works out of reach until 70 years after the creator's death and some published works unavailable for 95 or even 120 years, it sometimes seems there isn't anything that's fair game.
And all we want is a decent image — some nice visual — to help tell our story.
Well, let's see here. When I was an infant, my parents took me up Pikes Peak in Colorado.1 If I wanted to illustrate that, how about this image: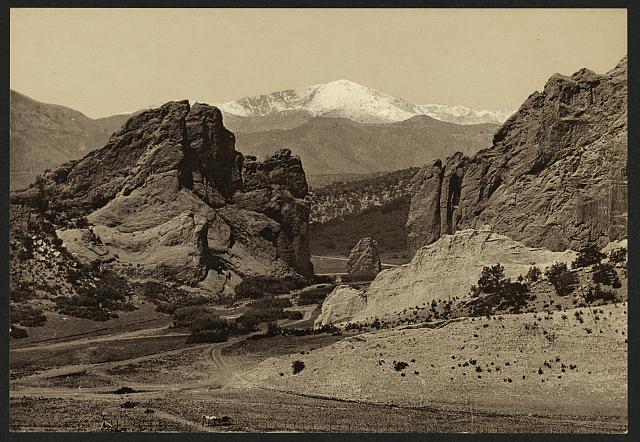 "Pike's Peak from the Garden of the Gods"2
Last fall, my brother was married in Tuscany and the wedding party took a day trip to Florence. Maybe I'd use this image to help write about that:
"The Baptistry, Florence, Italy"3
Maybe a relative of yours served during the War of 1898 on the battleship, the U.S.S. Texas. If so, you might want to use this image to show what it looked like:
Maybe your family came from the Caucasus region of what was Russia a century ago. Maybe you could use this image to illustrate the kinds of clothing women there wore: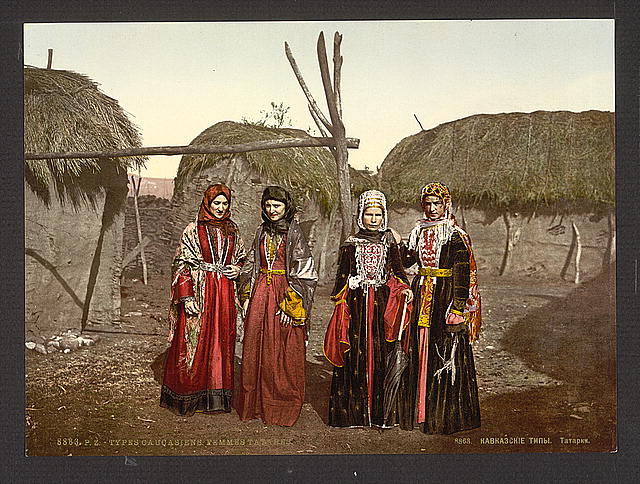 "Russian … women of the Caucasus"5
Spend any time near the Apostle Islands of Lake Superior in Wisconsin? Maybe this image of the Sphinx there would be just what you'd need:
"The Sphinx, Apostle Islands, Lake Superior"6
Maybe your ancestors attended services at St. Philip's Church in Arundel, England. You might want to use this image:
"St. Philip's Church, Arundel Castle, England"7
These are what are called photochrom prints: "ink-based images produced through 'the direct photographic transfer of an original negative onto litho and chromographic printing plates.' … The prints look deceptively like color photographs (but are) ink-based photomechanical image(s)…"8
And they and more than 6,000 other prints — some 6,430 images in all containing views of Europe, the Middle East and North America — are free for the taking through the Library of Congress Prints and Photographs Division website in the Photochrom Prints Collection.
Remember the law here: anything published in the United States before 1923 is now out of copyright.9 It can be used, reused, modified and republished, because it's now in the public domain.10
All of these photochrom prints were published before 1923. So they are all out of copyright, all in the public domain. The Library of Congress itself — which tends not to give much advice about copyright status — says as much: "Images in this collection are considered to be in the public domain."11
And because these out-of-copyright items are available at the Library of Congress, we don't even have to worry about terms of use — those annoying contract-type restrictions on what a website will and won't allow folks to do with its content.12 That's because the terms of use of the Library of Congress are essentially these: (1) don't violate anybody's copyright; (2) don't invade the privacy of individuals whose information might be found in the Library materials; and (3) don't mess with the Library's website itself.13
So go for it. There are some gorgeous images there to spruce up your — and my! — family history.
---

SOURCES
Not my parents' best idea for a day trip, by the way. Six-week-old lungs aren't quite up to the task of taking in enough oxygen at 14,000 feet. The cog railway attendant ended up reversing direction and rushing me back down the mountain. And yeah, actually, I can hear you muttering under your breath, "That explains a lot…" ↩
"Pike's Peak from the Garden of the Gods"; Photochrom Print Collection, Prints & Photographs Division, Library of Congress, Washington, D.C. (http://www.loc.gov/pictures/collection/pgz/ : accessed 21 Feb 2013). ↩
"The Baptistry, Florence, Italy"; Photochrom Print Collection, Prints & Photographs Division, Library of Congress, Washington, D.C. (http://www.loc.gov/pictures/collection/pgz/ : accessed 21 Feb 2013). ↩
"U.S.S. "Texas", c1898"; Photochrom Print Collection, Prints & Photographs Division, Library of Congress, Washington, D.C. (http://www.loc.gov/pictures/collection/pgz/ : accessed 21 Feb 2013). ↩
"Russian … women of the Caucasus"; Photochrom Print Collection, Prints & Photographs Division, Library of Congress, Washington, D.C. (http://www.loc.gov/pictures/collection/pgz/ : accessed 21 Feb 2013). ↩
"The Sphinx, Apostle Islands, Lake Superior"; Photochrom Print Collection, Prints & Photographs Division, Library of Congress, Washington, D.C. (http://www.loc.gov/pictures/collection/pgz/ : accessed 21 Feb 2013). ↩
"St. Philip's Church, Arundel Castle, England"; Photochrom Print Collection, Prints & Photographs Division, Library of Congress, Washington, D.C. (http://www.loc.gov/pictures/collection/pgz/ : accessed 21 Feb 2013). ↩
"The Photochrom Process," Photochrom Print Collection, Prints & Photographs Division, Library of Congress, Washington, D.C. (http://www.loc.gov/pictures/collection/pgz/ : accessed 21 Feb 2013). ↩
See Peter B. Hirtle, "Copyright Term and the Public Domain in the United States," Cornell Copyright Center (http://copyright.cornell.edu/resources/publicdomain.cfm : accessed 21 Feb 2013). ↩
See generally "Where is the public domain?," Frequently Asked Questions: Definitions, U.S. Copyright Office (http://www.copyright.gov : accessed 21 Feb 2013). ↩
"Photochrom Collection," Rights and Restrictions Information, Prints & Photographs Division, Library of Congress, Washington, D.C. (http://www.loc.gov/rr/print/res/rights.html : accessed 21 Feb 2013). ↩
See Judy G. Russell, "A terms of use intro," The Legal Genealogist, posted 27 Apr 2012 (https://www.legalgenealogist.com/blog : accessed 21 Feb 2013)). ↩
Judy G. Russell, "Library of Congress terms of use," The Legal Genealogist, posted 18 Jul 2012 (https://www.legalgenealogist.com/blog : accessed 21 Feb 2013)). ↩