Thank you, Emily
The Legal Genealogist is one of those people who prays for patience, and then ends the prayer, "And I want it right now!"
So whenever I encounter a reference to or an index entry for a document that I really really want to see, I get downright cranky. I want the document. And I want it right now! (Okay, so the truth is, I want it yesterday. I'll settle for right now.)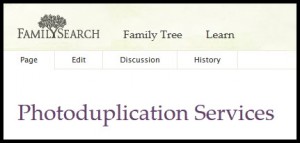 Help is at hand.
Well, at least if the document is on microfilm or microfiche at the Family History Library (FHL) in Salt Lake City. Or if it's on a page (or a few pages) of a book in the FHL stacks.
Because the document wizards at that amazing repository of So Many Things Genealogical are perfectly willing to let me email them, explain exactly what I need and exactly where it can be found in their thousands and thousands of books and rolls of microfilm or microfiche… and email me a copy back.
It's the next best thing to living in Salt Lake City, which I'm not about to do, since my idea of perfect weather is Honolulu.
I stumbled across this service some time back in an entry on (going) The Extra Yad, a blog by Emily Garber focusing on her on Jewish ancestry where she strives "to lend a hand and share knowledge and skills" and "to encourage dialogue and sharing," both of which she does exceedingly well.1
Emily's original post last October, "Teaching us to fiche,"2 was a great explanation of how to find various records in indices and then locate the FHL microfilm containing the records themselves. She explained, as well, how it was possible to order a document — what the procedures and costs were.
But she clued us all yesterday in "Free Records!"3 that the process has just gotten a whole lot easier — and it's now free if you can use a digital copy sent by email instead of a printed copy.
The service is described on the FamilySearch.org Photoduplication Services page and here are the rules:
Do your research first. You have to be able to describe exactly where to find the document you want: the microfilm roll number or microfiche number, the page if it's paginated, the date if it's in date order, the exact name if it's in name order. The FHL staff can't and won't take the time to go page by page looking for what you want. Examples of the data you should include are listed there:
Name of Individual you are researching
Title of record and name of parents, spouse, grantor, grantee, etc.
Event type (Birth, Death or Marriage)
Complete event date and place
Parish and volume or page number and registration
Certificate Number, and state or country of origin
Any other information that will be helpful in locating your record.
Check first to see if the record has been digitized (if the image is on FamilySearch,org). If it has been, the FHL won't copy it for you since you can get it at the website yourself.
Email your request to Photoduplication@familysearch.org.
Include your complete information: name, address, telephone number and email address. The request won't be processed without it.
And don't be greedy (a lesson always hard for me). You can only ask for a maximum of five documents a week.
Exactly how long it will take for a request to be processed is going to depend on a bunch of factors: how many requests come in, how available the staff is, and more. I know — trust me, how well I know — how hard it is to be patient in this era of instant return-email gratification. But remember: this is a free service by volunteers. If we all get snarky with them because we don't think we're getting what we want fast enough, we may find ourselves being disinvited to this part. Think gift horses here, and play nice.
Thank you, Emily, for pointing out this wonderful change. And thank you, Family History Library, for offering this service!
Now where did I put the book and page number of that deed I was looking for…?
---

SOURCES