Criminal court records
From America's first convicted murderer — a Mayflower passenger — to the 20th century gangsters and organized crime, criminal court records have documented a slice of American life that offers more pizzazz and bang for the buck than virtually any other type of record in our genealogical world.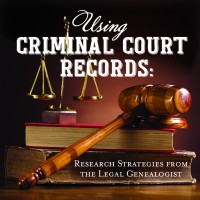 And there aren't any records around that are as much fun — and it doesn't really matter whether you have an ancestor who's the suspected villain (like my second great grandfather, indicted once for bigamy and once for murder, and he beat the rap, both times), or one who's playing a supporting role — like judge or juror, arresting officer or witness.
And two weeks from today, Family Tree University is hosting The Legal Genealogist in a one-hour webinar presentation: Using Criminal Court Records — Research Strategies from The Legal Genealogist.
I can't wait.
It's on for Tuesday, the 11th of December, at 7 pm EST / 6 pm CST / 5 pm MST / 4 pm PST, and like all of the Family Tree University webinars, advance registration is required. The early bird price is $39.99 until December 4th, and $49.99 thereafter, and we're going to cover the highlights of the whole criminal system from the first court records created after a crime — the criminal complaint, arrest warrant and indictment — all the way through to the kinds of records created by the prison systems.
We'll take a look at records created at every level of government — from the cities and counties to the states to the federal government — and even some records from places like England and Canada and Australia. And we'll look at all kinds of crimes and the punishments our ancestors faced if convicted, from the stocks and whipping posts of colonial times to the penitentiaries of more recent times.
And we'll talk about ways to find the records that relate to our ancestors in the many roles they played in the criminal justice system and what those records tell us about the times in which our ancestors lived.
Come on out and join me, December 11th, for Using Criminal Court Records — Research Strategies from The Legal Genealogist.