The institute experience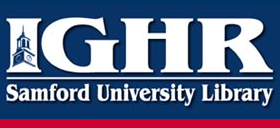 There is literally nothing in the genealogical world to compare to an institute: a week-long intensive immersive experience that is exhilarating, exhausting, entertaining and educational — often all at the same time.
And so it is, once again, at Samford University in Birmingham, Alabama, whose Institute for Genealogical and Historical Research (IGHR) — now in its 50th year1 — yesterday welcomed more than 200 genealogists from the United States and Canada to registration and orientation for 10 courses that start at 8 a.m. today.
Cosponsored by the Board for Certification of Genealogists, IGHR is one of four big week-long institutes that focus on genealogy and the second oldest, having begun in 1962.2 Each year, it offers programs in Intermediate Genealogy & Historical Studies, Advanced Methodology & Evidence Analysis and Writing & Publishing for Genealogists, plus seven others drawn from a rotating pool ranging from professional development to military genealogy to international tracks (English this year, German next year), and so much more. Registration is in January each year, and classes fill up fast (some in minutes, others in hours).
The oldest of the institutes is the National Institute on Genealogical Research (NIGR), a week-long institute focusing on federal records at the National Archives in Washington D.C. and College Park, Maryland. With trustees drawn from the American Society of Genealogists, Association of Professional Genealogists, Board for Certification of Genealogists, Federation of Genealogical Societies, National Genealogical Society, and the institute's alumni association, it began in 1950.3 It's a tough institute to get into (enrollment is limited and slots go fast) and a tough institute to survive (think records all day every day and well into every evening).
There are two newer institutes offering quality week-long programs — one in the west and one in the east. The Utah Genealogical Association sponsors the Salt Lake Institute of Genealogy, in Salt Lake City each January and the Genealogical Research Institute of Pittsburgh is the baby of the bunch, offering four tracks at LaRoche College, Pittsburgh, Pennsylvania, in July.
The benefits of institute training can't be overstated. You get to know a great group of people very well, so much better than you can at a conference. You get totally immersed in a subject you may have known little — or nothing — about before you got there. You usually get access to fabulous resources while you're on campus (not only does Samford have an amazing library with a fabulous Special Collections Department, but IGHR registrants get access to very expensive databases like ProQuest, Fold3 and GenealogyBank). And sometimes you even qualify for academic prices on software while you're technically a student on campus. And you learn. You learn and learn and learn.
And so it is, once again, that The Legal Genealogist heads off to class this morning at IGHR. I'm in a course I never thought I'd end up in back when I started researching my family history. After all, I thought, my father's family was from Germany and didn't arrive in the United States until 19254 and my mother's great grandparents were born in Ireland and Wales,5 so why would I ever need to know about African-American research?
Sigh… Because my mother's great grandparents were born in Mississippi, not in Europe, and it was in Mississippi where they owned slaves.6
Now it hurts this Yankee's heart to even think about slave-owning ancestors. But if I'm ever going to learn the truth about my ancestors' lives — all of my ancestors and all of their lives, even the parts of their lives I don't like and can't accept — I need to understand the records and know how to do this research.
Maybe you can't be here in class with me this week. But stay tuned… walk with me through this institute over the next five days.
Then we can all start planning which course (or courses!) we're going to shoot for next year…
---

SOURCES
"Welcome to IGHR," IGHR-Samford University Library (http://www4.samford.edu/schools/ighr/index.html : accessed 10 Jun 2012). ↩
Ibid. ↩
National Institute on Genealogical Research (http://www.rootsweb.ancestry.com/~natgenin/ : accessed 10 Jun 2012). ↩
Manifest, SS George Washington, Jan-Feb 1925, p. 59 (stamped), lines 4-6, Geissler family, 4; "New York Passenger Lists, 1820-1957," digital images, Ancestry.com (http://www.ancestry.com : accessed 10 Jun 2012); citing National Archive microfilm publication T715, roll 3605. ↩
Family tree pages, undated pamphlet-form baby book for Judy Eileen Geissler; privately held by Judy G. Russell, Avenel, New Jersey, 2011. Entries in the family tree were handwritten by Hazel (Cottrell) Geissler shortly after the birth of her second daughter. ↩
1850 U.S. census, Winston County, Mississippi, District 8, population schedule, p. 373 (stamped), dwelling 809, family 816, Gustavius Robinson; digital image, Ancestry.com (http://www.ancestry.com : accessed 10 Jun 2012); citing National Archive microfilm publication M432, roll 382. Also, 1860 U.S. census, Attala County, Mississippi, Township 14, Range 8, population schedule, p. 76 (penned), dwelling 455, family 494, Gustavus B. Robertson household; digital image, Ancestry.com (http://www.ancestry.com : accessed 10 Jun 2012); citing National Archive microfilm publication M653, roll 577; imaged from FHL microfilm 803577. ↩